Every week we bring to you some of the fundamentally strong and reasonably valued stocks that are popular on Reddit group WallStreetBets. Here are the five best WallStreetBets stocks that you can buy in the fourth week of October.
ContextLogic (NYSE: WISH)
ContextLogic stock has been a popular WallStreetBets stock. The stock has recovered from its all-time low of $4.61 even as it is still a fraction of its all-time high of $32.85. WISH stock has had a troubled ride as a publicly traded company. To be sure not much has gone right for WISH stock since it was listed.
The company has been posting wider losses and the topline growth turned negative in the second quarter. Also, it disappointed on almost all the operating metrics in the quarter. The abrupt exit of the company's CFO only added to the pessimism.
However, looking at the strong growth outlook for the e-commerce sector, WISH looks like a good buy. The company is changing its business strategy to focus more on the retention of the existing user base rather than growth. These efforts would only reflect in the company's performance in the medium to long term.
If you are willing to be patient and not get too perturbed by the short-term volatility, WISH looks like a good WallStreetBets stock to buy in October. With an NTM (next-12 months) EV (enterprise value)-to-sales multiple of around 1.2x, WISH stock looks attractive at these prices.
67% of all retail investor accounts lose money when trading CFDs with this provider
PayPal (NYSE: PYPL)
PayPal is currently among the popular WallStreetBets stock. The stock fell yesterday on reports that it plans to acquire Pinterest. Meanwhile, Wall Street analysts have a mixed opinion of the deal. Mizuho analyst Dan Dolev is among those who are apprehensive about the transaction.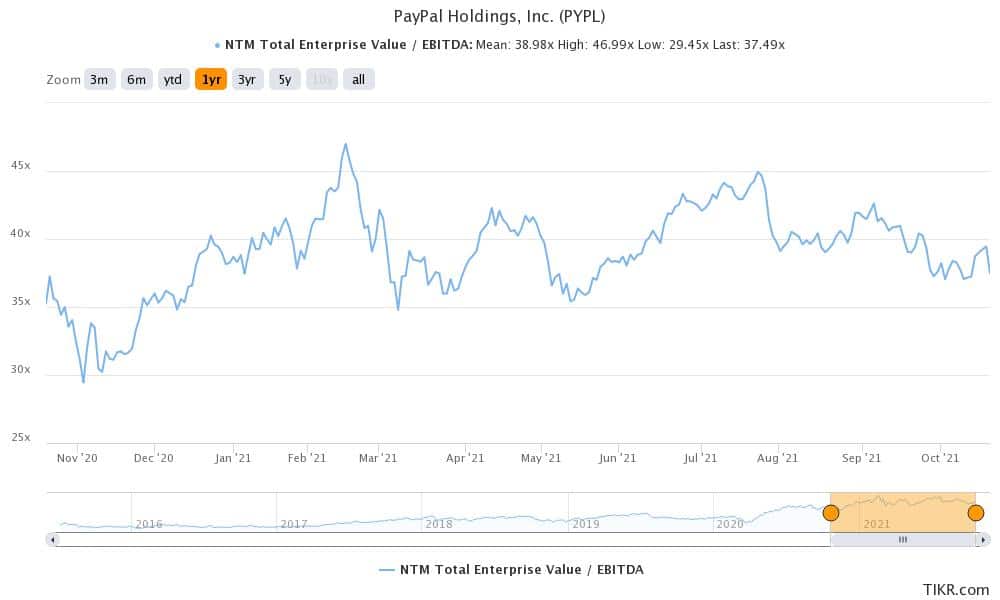 "We see several potential concerns including unknown degree of user overlap, rapid deceleration in Pinterest user growth in recent quarters, and the deal potentially signaling that PayPal's organic net new adds in the second half of 2021 may be weaker than hoped," said Dolev.
However, Deutsche Bank analyst Bryan Keane sounds constructive on the transaction. "Integrating PINS' experience-based platform into PayPal's recently rolled out Super App and in-app shopping capabilities through Honey should significantly increase transactions per user," said Keane. Bank of America also sounded bullish on the transaction and sees cross-selling opportunities for PayPal.
WallStreetBets is talking about the acquisition
WallStreetBets members are also talking about the pros and cons of the acquisition. Notably, the deal would also need to be approved by The US Federal Trade Commission, whose new chair Lina Khan has sounded more hawkish than her predecessor when it comes to the monopolies of tech giants.
All said PayPal is among the best fintech names to hold. The company has also allowed some cryptocurrencies in the US and the UK and could expand crypto transactions further. Wall Street analysts are also bullish on PayPal stock and consensus estimates call for an upside of 34% over the next 12 months.
67% of all retail investor accounts lose money when trading CFDs with this provider
Disney (NYSE: DIS)
Disney is another popular WallStreetBets stock. It has fallen sharply from its peaks and is now trading with a year-to-date loss even as the US stock markets are near record highs. Last month, the company said that the subscriber growth in the quarter would be low which led to a sell-off. However, the management has reiterated the long-term business forecasts.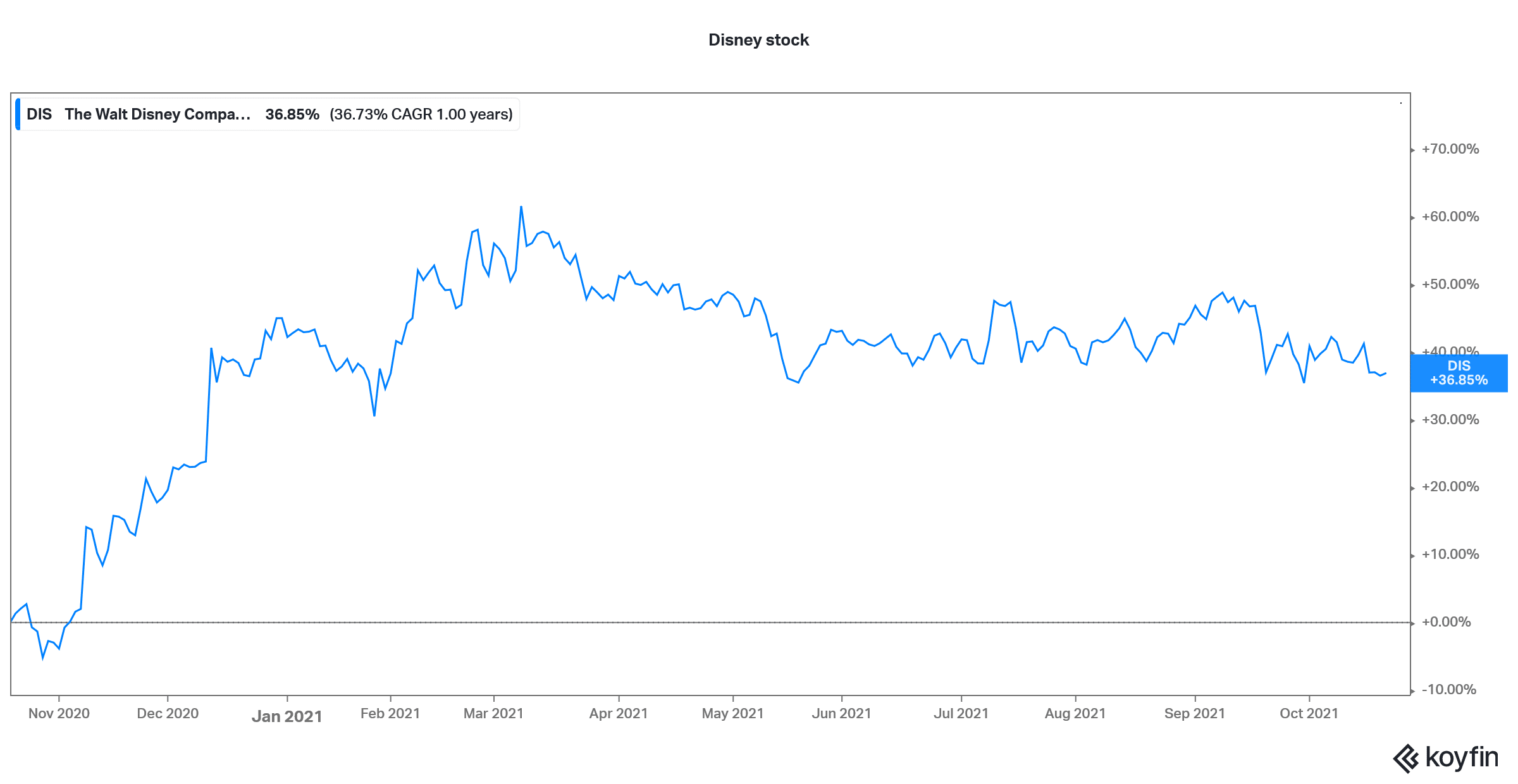 WallStreetBets is bullish on Disney's streaming business
Some WallStreetBets members are bullish on Disney amid the pivot towards streaming. Over the long term, the streaming business would contribute significantly to Disney's earnings. While the operations are currently posting losses, they are expected to become profitable in the coming years and drive the company's profitability.
While Disney is not the typical meme stock even as it is popular on WallStreetBets, it looks a good buy both for the short term as well as the long term. In the short term, we'll see a revival in the company's earnings led by the Parks segment. For the long-term, streaming would add value.
Overall, Disney looks like a good WallStreetBets stock that should be on your radar in October. With the fall from the peaks, DIS stock looks quite attractive now. Wall Street analysts are also bullish on the stock and its average target price of $215.06 is an upside of almost 25% from these levels.
67% of all retail investor accounts lose money when trading CFDs with this provider
Crocs (NYSE: CROX)
Crocs stock became popular on WallStreetBets stock after it reported better than expected earnings. The company's revenues were $626 million in the third quarter which was ahead of the $610 million that analysts were expecting. The company's EPS of $2.47 was also ahead of the $1.88 that analysts were expecting. It also raised its full-year revenue growth forecast to 62-65% from the previous guidance of 60-65%.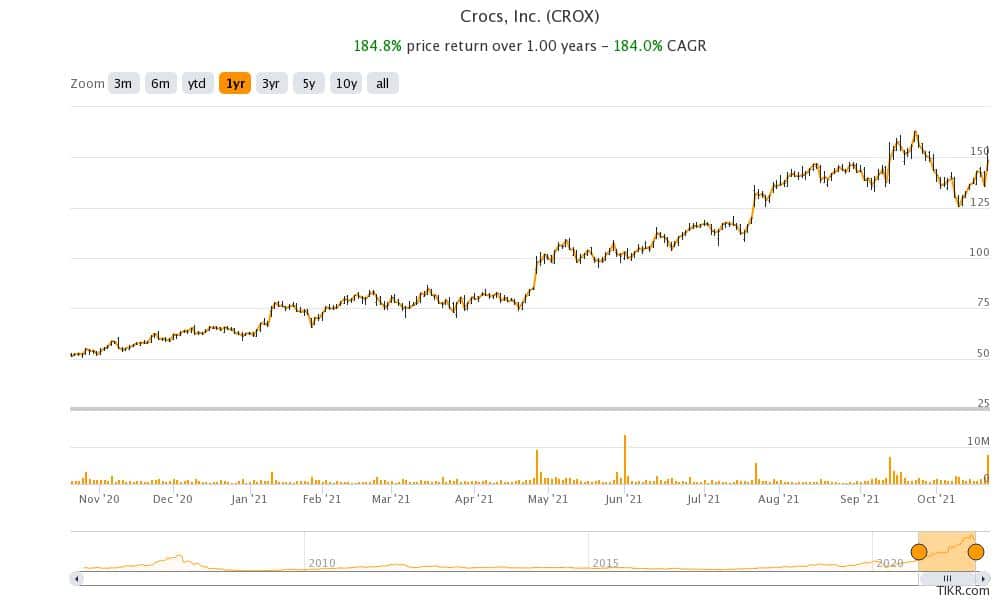 WallStreetBets is impressed with CROX's earnings
WallStreetBets members seem impressed with CROX's earnings which are coming at a time when US retailers are grappling with severe supply chain issues. Meanwhile, CROX stock is up over 140% for the year, outperforming most peers. Wall Street analysts see more upside in the stock and its consensus target price of $180 is a premium of 21.7% over current prices.
67% of all retail investor accounts lose money when trading CFDs with this provider
Cleveland-Cliffs (NYSE: CLF)
CLF is an integrated steel producer. The stock has been a popular WallStreetBets stock for quite some time now. However, while the stock is still up 46% for the year, it has come down sharply from its 52-week highs. There are concerns over the longevity of the steel cycle and some analysts have been downgrading steel stocks.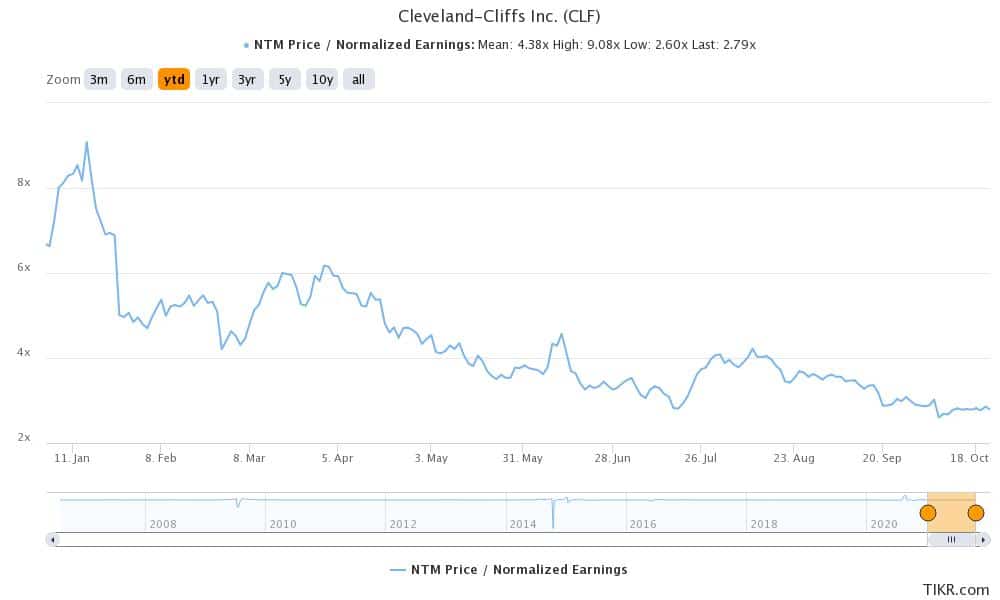 Most WallStreetBets members are bullish on CLF stock
Meanwhile, most WallStreetBets members have a bullish view of CLF stock. Notably, while steel prices might have peaked, they might not crash from these levels. Also, if Biden's infrastructure bill gets approved, it would lead to a higher demand for steel in the US. Steel companies are posting record profits and might continue to report stellar results for the next few quarters.
CLF is using the cash flows to deleverage and the company expects to become neutral on the net debt in 2022. This would help support a structural re-rating of CLF stock. The current valuations appear tempting and CLF trades at an NTM PE of only about 2.8x.
While the valuations of commodity companies bottom at the cyclical peaks, CLF looks too cheap to ignore at these prices. If you are looking to buy a steel stock that WallStreetBets also loves, CLF would fit the bill.
Buy CLF Stock at eToro from just $50 Now!
About Mohit
PRO INVESTOR
Mohit Oberoi is a freelance finance writer based in India. He has completed his MBA with finance as majors and also holds a CFA charter. He has over 14 years of experience in financial markets. He has been writing extensively on global markets for the last seven years and has written over 7,500 articles. He covers metals, electric vehicles, asset managers, tech stocks, and other macroeconomic news. He also loves writing on personal finance and topics related to valuation.
Source link
Snap Inc. (NYSE:SNAP) has emerged as the most-discussed stock on Reddit's r/WallStreetBets forum as of Thursday night, while Tesla Inc. (NASDAQ:TSLA), Digital World Acquisition Corp. (NASDAQ:DWAC), Facebook Inc. (NASDAQ:FB) and PayPal Holdings Inc. (NASDAQ:PYPL) are also seeing high interest.
What Happened: Snapchat parent Snap is seeing the highest interest on the forum with 513 mentions as at press time, followed by exchange-traded fund SPDR S&P 500 ETF Trust (NYSE:SPY) with 497 mentions, data from Quiver Quantitative showed.
Electric vehicle maker Tesla and special purpose acquisition (SPAC) company Digital World Acquisition are in the third and fourth positions, having attracted 445 and 279 mentions, respectively.
Apart from social media giant Facebook and financial technology company PayPal, the other stocks trending on the forum include chipmaker Advanced Micro Devices Inc. (NASDAQ:AMD), Intel Corp. (NASDAQ:INTC), Canadian cybersecurity company BlackBerry Inc. (NYSE:BB) and videogame retailer GameStop Corp. (NYSE:GME).
See Also: What Will Be Facebook's New Name? Here Are The Betting Odds
Why It Matters: Snap is seeing high interest on the forum after the company reported third-quarter earnings that beat analysts' expectations while revenues missed estimates.
Snap said its ad business was disrupted by changes to iOS ad tracking that were rolled out by Apple Inc. (NASDAQ:AAPL) earlier this year.
Tesla continues to be among the most-discussed stocks on the forum after the Elon Musk-led company on Wednesday reported third-quarter financial results that beat analysts' estimates.
Shares of Digital World Acquisition skyrocketed on Thursday after the company announced a planned merger with Trump Media & Technology Group that would launch former President Donald Trump's own social media platform.
Intel on Thursday reported third-quarter earnings that beat analysts' expectations, while revenue missed estimates.
Price Action: Snap shares closed 0.7% lower in Thursday's regular trading session at $75.11 and further fell almost 21.6% in the after-hours session to $58.90.
SPDR S&P 500 ETF Trust's shares closed almost 0.3% higher in the regular trading session at $453.59, but fell 0.2% in the after-hours session to $452.54.
Tesla shares closed almost 3.3% higher in the regular trading session at $894.00, but fell almost 0.6% in the after-hours session to $888.88.
Read Next: 7 Key Takeaways From The Donald Trump SPAC Deal
Photo: Courtesy of Gage Skidmore via Wikimedia
Reddit's WallStreetBets forum entered the mainstream during the January GameStop craze.
From GameStop to AMC Entertainment, retail investors congregating on the subreddit are a driving force in the stock market.
These are the 10 most popular stocks WallStreetBets is talking about right now.
---
Following which stocks Reddit's WallStreetBets crowd is talking about this year has paid off, as several have gone through epic rallies and seen heightened volatility.
From GameStop in January to AMC Entertainment in June, the 11 million-member forum has driven the conversation in so-called meme stocks that have exploded higher amid overwhelming demand from retail investors. Strong demand for stocks with shaky fundamentals has led to several hedge fund blowups that were caught on the opposite side of the trade betting against the company in question.
GameStop's short-squeeze, in-part led by the WallStreetBets crowd, led to a more than 50% drawdown in multibillion dollar hedge fund Melvin Capital. Meanwhile, the sharp rally in struggling movie theater chain AMC Entertainment caused billions of dollars in losses for short-sellers in May and June.
As traders look to replicate the success of WallStreetBets stocks, one data aggregator is compiling the most mentioned stocks on Reddit's forum.
These are the top 10 stocks Reddit's WallStreetBets forum is focused on right now, according to data compiled by SwaggyStocks. The list is based on mentions over the past 24 hours.
10. GameStop
Ticker: GME
WallStreetBets Mentions Over Past 24 Hours: 32
Market Capitalization: $14.1 billion
1-Week Performance: 4.3%
9. Amazon
Ticker: AMZN
WallStreetBet Mentions Over Past 24 Hours: 34
Market Capitalization: $1.67 trillion
1-Week Performance: 4.8%
8. ContextLogic
Ticker: WISH
WallStreetBet Mentions Over Past 24 Hours: 35
Market Capitalization: $3.2 billion
1-Week Performance: 1.9%
7. Facebook
Ticker: FB
WallStreetBet Mentions Over Past 24 Hours: 38
Market Capitalization: $926.3 billion
1-Week Performance: 1.8%
6. Apple
Ticker: AAPL
WallStreetBet Mentions Over Past 24 Hours: 38
Market Capitalization: $2.38 trillion
1-Week Performance: 1.4%
5. Coinbase
Ticker: COIN
WallStreetBet Mentions Over Past 24 Hours: 39
Market Capitalization: $54.8 billion
1-Week Performance: 14.0%
4. Upstart
Ticker: UPST
WallStreetBet Mentions Over Past 24 Hours: 40
Market Capitalization: $29.5 billion
1-Week Performance: 21.5%
3. Netflix
Ticker: NFLX
WallStreetBet Mentions Over Past 24 Hours: 41
Market Capitalization: $280.5 billion
1-Week Performance: 0.4%
2. SoFi
Ticker: SOFI
WallStreetBet Mentions Over Past 24 Hours: 60
Market Capitalization: $15.6 billion
1-Week Performance: 11.4%
1. Tesla
Ticker: TSLA
WallStreetBet Mentions Over Past 24 Hours: 245
Market Capitalization: $812.1 billion
1-Week Performance: 9.0%
Source link
This transcript was prepared by a transcription service. This version may not be in its final form and may be updated.
John Emshwiller: You're listening to Bad Bets, a podcast from the Wall Street Journal that unravels big business dramas that have had a big impact on our world. This first season chronicles the collapse of Enron, I'm John Emshwiller. This isn't a history lesson, or a chronology of the company. Rather, we're going to tell this story through the critical players in the Enron saga.
In these next few episodes, you'll meet the people behind the decisions that help make Enron one of the world's most successful companies, and then turned it into a historic corporate scandal. Starting with the man who was arguably the face of Enron's rise, former CEO Jeff Skilling, stay with us.
In January of 2000, Enron hosted this annual gathering for financial analysts in Houston. Enron execs were pitching them on the company's hot new venture to get them excited about buying Enron's stock. Enron's COO Jeff Skilling, was center stage.
Jeffrey Skilling: Around Enron as you can tell, we have kind of an entrepreneurial culture. A lot of people do a lot of things. The thing we look for more than anything else is that, is there someone pounding the table?
Carol Coale: Oh, my gosh, Skilling was on his game. He was the leader, he was the idea guy, and he was firing on all cylinders.
John Emshwiller: Carol Coale was listening to Skilling at a Houston hotel that day. She was a stock analyst for Prudential. It was Coale's job to rate stocks, buy, hold, or sell. If she gave a company a buy rating, her clients were more likely to put money behind it. She thought of herself as a skeptic when it came to these dog and pony shows, but watching Skilling up there, she felt like the room had a certain energy.
Carol Coale: Like a cult meeting because every single person was mesmerized. Everybody was on the same page. Everybody was caught up in the moment, including me.
John Emshwiller: And Skilling's newest idea, high speed internet, broadband, and he prophesized, someday, everyone would want the internet piped into their homes.
Jeffrey Skilling: The growth of high bandwidth applications is real, it is here now. And the foundation is being laid across the industry for a range of services that are bandwidth intensive.
John Emshwiller: Skilling said Enron was well along in building its broadband network, hoping to make money by offering a range of services.
Jeffrey Skilling: I think a lot of people say, "Gee, this is great. We understand the concept, we understand the philosophy, but why Enron? Why a pipeline company thinks that they can have an impact of this type on such a new, and opening, and competitive business?"
John Emshwiller: See, Enron was noted for ferrying gas around the country. Now, Skilling said, they plan to ferry information and data. The utility of the future. One opportunity Enron executives saw with faster internet was streaming TV and movies right to your home. And this was back when Netflix was still just mailing out DVDs.
So at this meeting, executives announced a huge investment in infrastructure, 18,000 servers from Sun Microsystems, a Silicon Valley heavyweight at the time. A surprise visit from Sun CEO Scott McNealy, made the room erupt.
Carol Coale: And at that moment, investors were jumping out of their seats. I mean, literally jumping to call their traders to buy the stock, they went into a buying frenzy. Looking around the room at the senior management of Enron, it was like the Cheshire Cats. They all had smiles on their faces that almost seemed unreal.
John Emshwiller: This was the dot-com era and the tech sector was booming. Investors were frothing at the bid, and Enron already had established a track record of success. Everyone wanted a piece of the company, and their stock got a huge boost. It swung up 26% that day.
Carol Coale: And so Enron comes in with Jeff Skilling behind the wheel conceptualizing these interesting, sexy, innovative ways to generate double-digit returns.
John Emshwiller: But the shine didn't last long. There's a reason we don't say Enron and chill.
Carol Coale: He was a great salesperson, and he sold us on the ideas and didn't disclose the failures. I mean, eventually we found out, but it took probably at least 24 months for the walls to come crashing down.
John Emshwiller: By the late '90s, Jeff Skilling had his hand in almost every venture at Enron. He even changed the building layout. He happily tore down lots of office walls.
Jeffrey Skilling: We'll just have a great big like bullpen, and people will sit all around and they'll talk, and they'll throw things at each other, and get excited and creative.
John Emshwiller: These tapes are Skilling at the university of Virginia in 2000, telling business students the story of his success, explaining his methods.
Jeffrey Skilling: So we are not risk avoiding. We are risk seeking for those risks that we can manage.
John Emshwiller: They're a reminder of who Jeff Skilling was before Enron's collapse. A man who drove the rise of one of the most successful companies in the world.
Jeffrey Skilling: And that's how you make money.
John Emshwiller: And make money he did. By the end of the '90s, Enron was no longer just an energy company, they were in the tech sector, writing their own rules in a brand new industry. This episode, how Jeff Skilling remade Enron, and catapulted himself and the company to stratospheric success.
Jeffrey Skilling: The core skill is people. People taking non-traditional approaches to businesses or taking approaches to businesses to change those businesses. We're the world's coolest company.
John Emshwiller: Skilling would eventually spend over a decade in federal prison for conspiracy, fraud, and insider trading. All the while saying he was innocent. He declined to comment for this podcast. But it's his meteoric ascent that best tells the story of Enron's heyday, and begins to explain why things went wrong.
Ken Lay: In the first four months of activity, we've done over $24 billion of business. And currently we're averaging over a half a million dollars a day.
Carol Coale: I had proof, I had resumes in front of me, and folks I had talked to that were saying, "We think something's amiss at Enron."
Mike Anderson: There's a tendency in Silicon Valley to fake it till you can make it.
John Emshwiller: You're listening to season one of Bad Bets. The story of Enron's collapse. This is episode two, The Visionary. Enron was a pretty state outfit back in 1985 when it was created. It moved gas around the country to power cities. It was a kind of company we at the Wall Street Journal called DBI, dull but important. That all changed one day when Jeff Skilling walked through Enron's doors.
At the time, Skilling was a young hotshot consultant working for McKinsey, a prominent consulting firm. He pitched a brand new idea to Enron in 1987, something so big, it not only changed the company, but the entire energy sector. It was called the "gas bank." The country was deregulating natural gas, basically letting the market set the price. And Skilling saw an opportunity for Enron to start making money as a middleman.
Rebecca Smith: Enron would find sellers of gas on one end of a pipeline and buyers on the other end. And it would work out whatever kind of sales and purchase arrangements these people wanted.
John Emshwiller: That's Rebecca Smith, my colleague at the Wall Street Journal, you met her last episode. She'd been covering Enron and Skilling for two years before I got involved. Rebecca says the gas bank pitch wasn't well received.
Rebecca Smith: Well, the story that was told was that, he'd presented his idea for the gas bank to a group of senior Enron executives, their reaction was very muted, they didn't maybe quite get it.
John Emshwiller: According to Skilling, one exec cracked, "This is the dumbest idea I've ever heard in my life." He walked out of the room disheartened, but that feeling, it didn't last long. Here's how Skilling later told the story in court testimony. He got into an elevator with Enron's Chief Operating Officer Rich Kinder, one of the biggest players in the Houston energy scene. In the elevator chomping on a cigar, Kinder told Skilling that he thought it was a good idea.
Rebecca Smith: So, they're off and running.
John Emshwiller: Kinder who left Enron in 1996, declined to comment. But Skilling's gas bank idea was a big hit. Gas sellers and buyers piled in, and Enron excelled at buying gas low and selling it high, making big bucks out of it. Skilling was eventually hired to run the gas bank, he gave up a lucrative consulting job in hopes of reshaping an industry.
Over the next decade, the gas bank and all that grew out of it produced profits in the billions. And it was part of Skilling's strategy for Enron to keep up with a rapidly changing world. It was the '90s, the age of the internet.
Speaker 7: Millions of Americans own a personal computer. If you're one of them, you can now glimpse the future with nothing more than a modem, a phone line and a few dollars a month.
John Emshwiller: Globalization was opening up markets in a way we'd never seen.
Jeffrey Skilling: We have the opportunity to remake the world.
John Emshwiller: And the soaring stock market generated boundless economic optimism. And Enron, it would have a foothold in all of these sectors.
Rebecca Smith: So it wasn't just a plain vanilla business anymore. The idea of course was that, if you open up these markets, you'll have more competitors for everything, for moving gas, and for using gas, that these prices will go down.
John Emshwiller: Enron used this gas bank middleman model to trade a lot of things. They entered all kinds of other markets, like electricity, paper, and eventually broadband. Skilling ran the whole trading operation. It became the biggest part of the company.
Rebecca Smith: I think the assumption has always been that it catapulted him to the top. He was the future.
John Emshwiller: He became a kind of wunderkind, the king with the golden touch. By 1997, only seven years after joining Enron, Skilling became president and chief operating officer, second in power only to CEO Ken Lay. And the success of the trading business gave Skilling clout and the leverage to pitch more ideas. In 1999, Skilling and his team delivered another home run, ratcheting up the speed and ease of trades.
Up to that point, trading commodities like gas happened almost entirely over the phone. You had to dial up a number, wait till someone answered, and then offer a price, and perhaps haggle, maybe haggle a lot. Precious minutes went by, market forces were changing during the call. It was to say the least, an imperfect process.
Skilling thought the internet could compress that time to seconds. So, Enron built an online platform where trades could be done in seconds. And best of all, all that business went through Enron. They called it Enron Online, and its launch went gangbusters. Skilling's boss Ken Lay, was thrilled.
Ken Lay: In the first four months of activity, we've done over $24 billion of business. And currently we're averaging over a half a million dollars a day.
John Emshwiller: In 2000, transactions with a total value of $300 billion were completed on Enron Online. It became the world's largest web-based e-commerce site. And more trades meant more money in Enron's pocket. Enron's stock continued to rise, and along with it, killing Star Power. He also had a different look from his early days at Enron, Carol Coale, the analyst said Skilling shed those dweeby Coke bottle glasses.
Carol Coale: He got LASIK surgery.
John Emshwiller: And hit the gym.
Carol Coale: And he lost weight. I think he became kind of an exercise guru, and got into risky sports, and just really gained an air of confidence.
John Emshwiller: Skilling was also something of a thrill seeker, and brought this to the office culture. He would organize these extreme outings. They would become known as 'mighty man' trips. Colleagues and associates joined him in the Australian Outback, racing Land Cruisers and eating grub worms. Skilling had also built a brand new Mediterranean mansion in a community called River Oaks.
It was basically the Beverly Hills of Houston. The new Skilling took Enron to new heights, and whether it was his image, his effect on the culture, or his ideas, it paid off. His ventures at Enron became so successful that the company's reported revenues doubled in just one year, to $100 billion. Soon afterwards, in early 2001, Enron appointed Skilling to the top job, CEO. But one great year wasn't good enough. Enron promised investors double-digit earnings growth every year, and Skilling had to deliver.
By this time, Enron's domestic pipelines, their original business were still churning out steady but unspectacular profits. Between 80 and 90% of Enron's earnings were coming from its wholesale trading operation, buying and selling gas, electricity, and other commodities, the business that had developed out of Skilling's gas bank idea.
The broadband initiative was still losing money, but it was one of Skilling's pet projects. The company also had billions of dollars locked up in international assets, natural gas power plants in India, pipelines in Brazil, a water company in Argentina. These costly investments were bringing in returns, but weren't as profitable as Enron wanted. Skilling went to sell off these foreign assets. That sector of the business was run by Enron Senior Exec Rebecca Mark-Jusbasche, the CEO of Enron International.
Rebecca Mark-Jusbasche: I think there was just a lot of pressure on Ken and Jeff at that time, because they were trying to shift over and sell whatever assets they could to shore up the balance sheet for the trading side of the business.
John Emshwiller: Rebecca Mark-Jusbasche, who left before the collapse, and was never accused of wrongdoing in the Enron case, saw the idea of dumping these assets as shortsighted. They weren't failing, they just needed time to mature, but she says, Skilling was in a hurry.
Rebecca Mark-Jusbasche: I think he preferred to pursue the more kind of sexy side of the business, the new emerging world of things, of financial deals. And it looked a little bit more like that world than my world of pipelines, and power plants, and oil and gas assets that one has to develop and spend time with.
John Emshwiller: Power plants, pipelines, they were expensive investments. And according to Skilling, not good ones.
Jeffrey Skilling: It was absolutely clear that this was not the direction to go. We could not earn a compensatory rate of return on that side of the business.
John Emshwiller: Selling off the infrastructure would also put Enron one step closer to Skilling's asset-light vision for the company, away from traditional pipelines and power plants, towards the emerging worlds of trade and tech, but not all of Skilling's new ventures were living up to the hype. In January 2000, despite her skeptical nature, Prudential Analyst Carol Coale had been won over by Enron's broadband pitch.
Carol Coale: So it was a pretty uplifting, exciting meeting. And I was glad that I had a buy rating on the stock and I was making money for my clients.
John Emshwiller: But about a year in, she started to suspect the venture was faltering. It happened when she posted a job for an analyst to join her team. And the applications came pouring in, many of them, Enron Broadband employees.
Carol Coale: So it was February of 2001, that these resumes started hitting my desk.
John Emshwiller: And how many would you say there were from Enron?
Carol Coale: At least 50. So these were Houston folks. They were walking across the street basically, to come over and interview with me.
John Emshwiller: Why were so many people leaving their hottest new venture? Coale called up Enron before interviewing any of the applicants.
Carol Coale: And their answer was, "Well, we're just redeploying some folks. And the ones who you're seeing resumes from are the ones we let go."
John Emshwiller: It didn't make sense. She was not looking at bottom of the barrel resumes.
Carol Coale: Enron, as you'll recall, they hired the best of the best. I mean, they hired very smart people. I was excited to be interviewing these folks, but I was also curious about why they were sitting on the other side of my desk looking for a job.
John Emshwiller: Coale had kept the buy rating on Enron's stock for around four years. Her clients were invested in Enron, and a lot of that rode on the broadband business. If it was failing, her investors could lose a lot of money. And if she had no idea that was happening, she would be failing. So she asked the applicants.
Carol Coale: And the general response was, "Enron is exiting broadband."
John Emshwiller: But that's not what Enron told her. She went back to the execs, confronted them.
Carol Coale: I had proof. I had resumes in front of me, and folks I had talked to, that were saying, "We think something's amiss at Enron. We think they're shutting it down or exiting it. Because one day we had a job and the next day we were told to leave."
John Emshwiller: I should note here, these layoffs would come up years later at trial, and Skilling would acknowledge there were eventually layoffs in broadband. But at the time, Coale said, Enron executives dismissed her concerns. But the red flags were adding up. One big flag involved an exclusive video-on-demand deal that Enron had signed in 2000 with Blockbuster. Yeah, Blockbuster.
Carol Coale: It's kind of hard to conceptualize, but if you wanted to watch a movie, you had to go to Blockbuster and rent a DVD.
John Emshwiller: It seemed simple enough, Enron would build the streaming platform, and Blockbuster would provide the content. The partnership could have completely changed the way people watch movies at home. But the deal fell apart in early 2001, Enron complained Blockbuster wasn't moving fast enough to get streaming rights to movies.
And Blockbuster claimed that Enron's system had troubling tech and security problems. There was no hiding this hiccup. Enron had to report to investors, to everyone, including Coale.
Carol Coale: I was dismayed about the Blockbuster contract being terminated, but Enron said, "Now, we can go pursue other sources that can provide content to us like movie studios, and it'll be even better."
John Emshwiller: But Coale wasn't in the mood for anymore of Enron's positive projections. She decided she would downgrade the stock to a hold. A signal to investors that it was time to bet on someone else. And that would be bad news for Enron. It could lead to other analysts and investors losing faith, too. Skilling had heard that Coale was getting concerned about Enron, so he called her.
Carol Coale: I didn't answer it because I had already left for the day, but he left me a voicemail saying, "It sounds from your tone on the call that you're still skeptical. Let's meet one-on-one, and I'll talk to you more about our strategy regarding broadband going forward."
John Emshwiller: She says they met after work for a glass of wine. And Coale remembers Skilling spoke in a kind of confiding tone, less like a CEO trying to convince a skeptical analyst, and more like a friend, trying to keep her from making an embarrassing mistake.
Carol Coale: He continued to deny that they were exiting broadband. And he finally said, "You have a lot of credibility as an analyst, Carol, and I respect you. But you will lose that credibility if you downgrade, because we've got news coming out."
John Emshwiller: It was unusual for a CEO to talk like this.
Carol Coale: I mean, what would you do if the CEO told you something like that? I mean, I thought, "Well, okay, I don't want to lose credibility. I don't want to look stupid because this man is trying to save me from myself." So I believed him. And at the time, I trusted him and I said, "Okay, I won't do it now then, I'll wait and see what your news is."
John Emshwiller: So Coale waited, and waited, and waited. That news that Skilling promised, never came. Well, looking back now, do you feel like you were being lied to by him?
Carol Coale: Jeff Skilling in his defense believed the Enron story, he drank the Kool-Aid. I don't know if he outright lied to me, but I don't think he had any material facts to keep me from downgrading the stock.
John Emshwiller: She knew of problems at Enron, but Skilling had promised something big was in the works. And Skilling had pulled off big before.
Carol Coale: I felt like I had to have a reason to downgrade the largest market cap stock in my universe, and probably the most widely held without any proof of anything. So it was a gut feeling. I didn't feel like I could've said I'm putting a sell rating on the stock, or hold rating because I just feel like there's something wrong.
John Emshwiller: So her caution made sense. She and Skilling both had a lot to lose. If Coale downgraded the stock, it would raise doubt about Enron's success story that Skilling was selling to the public, and doubts like an infection can spread and do lots of harm.
And if Coale made such a big high-profile call and was wrong, she said it could seriously damage her career. In fact, the first time she downgraded Enron's stock back in 1994, she had felt the company's wrath.
Carol Coale: The management made a phone call to my boss who had just hired me, and did not say very positive things. In fact, I think he might have wanted me to be removed from my position.
John Emshwiller: We asked Prudential about this, and they declined to comment. But as far as Coale was concerned, in 2001, her reputation was on the line, she decided to wait. In retrospect, we know that Enron's broadband initiative was on life support by early 2001. See, Enron execs weren't the only people who could see that the internet was headed to almost every home and business in America. Coale said a lot of businesses were making similar bets, but the consumer demand was not there yet.
Carol Coale: And even their competitors would say, "We're not really sure how Enron can claim to be making all this money, because we're certainly not, in broadband and bandwidth."
John Emshwiller: Now, Enron Broadband wasn't reporting a profit. Though Coale did project it could be making big bucks several years down the road. But potential profits years down the road wasn't enough. Enron didn't have the customers, the Blockbuster deal had failed. And on top of that, there were hardware issues with that streaming player that connected to the TV. It was called a set-top box.
Carol Coale: I didn't know until later when I was interviewed by the FBI, that the set-top boxes were not performing, and not only that, they were actually catching on fire.
John Emshwiller: Now, Enron defenders say that glitch got fixed, and they also argued, these projects take time and require upfront investments to see big results down the road. They didn't promise to make money overnight, but by 2001, Enron had dropped a billion dollars on broadband, and it had little revenue to show for it.
Some had argued that the blame for the broadband failure shouldn't fall at Skilling's feet, even though he announced it and celebrated it, the actual operation was overseen by others. Still, Skilling was the CEO. It was his job to bail out the sinking ship. He was the one who oversaw those cutbacks in spending, the layoff of staff. He would later say, broadband was, "My biggest disappointment." Reality had finally caught up with him.
Carol Coale: The more time went on, the more upset I became with him and with me, for believing it with him, for misleading me. And the stock continued to fall.
John Emshwiller: Coale wasn't the only person who'd feel misled. Publicly, Skilling was putting a positive spin on Enron's finances and future. But behind the scenes, he was scrambling, managing debt, shoring up the company's troubled operations, that became apparent after Enron fell into bankruptcy. Skilling's actions, what he did, and what he told the public became of great interest to the FBI. Just two days after Enron filed for bankruptcy, the FBI started its investigation.
Mike Anderson: Actually, I have a couple t-shirts. This one says, "I got laid off from Enron, and all I got was this lousy t-shirt."
John Emshwiller: Mike Anderson is a retired FBI investigator. He had a senior position on the federal criminal investigation of Enron.
Mike Anderson: Yeah, I had a bunch of other Enron trinkets.
John Emshwiller: Including a deck of playing cards.
Mike Anderson: So in these cards, Ken Lay is the Ace of Spades. Jeffrey Skilling is the King of Spades.
John Emshwiller: These guys had been at the top of Enron, and they had landed on the top of Anderson's target list. Now, building a white-collar case is no easy endeavor. Anderson and his colleagues focused on parts of the business that appeared to be in trouble, and where executives appeared to be covering up.
One of the first things Anderson looked into was broadband. Specifically, a trip Skilling took to Enron's broadband offices in Portland, Oregon, March, 2001. Now, this was around the time those Enron's employee resumes were landing on Coale's desk.
Mike Anderson: They flew out, and he told the employees that they were centralizing operations in Houston, and that there would be layoffs because of the total meltdown in the broadband industry.
John Emshwiller: Anderson found it suspicious that Skilling spoke of a total industry meltdown to employees of Enron Broadband Services, EBS for short. Because only a week later says Anderson, Skilling gave the public a very different message.
Mike Anderson: So Jeffrey Skilling comes back from Portland, and on March the 23rd, of 2001, he's on an analyst call and he says, "Enron's business is in great shape. I know this is a bad stock market, but Enron's in good shape." He went on to say that broadband is coming along just fine. And that EBS or Broadband was not laying employees off, but rather moving people around inside EBS. And he said, "This was very good news." So without a doubt, Skilling lied, Skilling lied to the analyst on that phone call.
John Emshwiller: These events became part of the government's case against Skilling. It's illegal to make false statements to investors, and in Anderson's eyes, that made Skilling a felon.
Mike Anderson: So again, I think Skilling was under immense pressure to make the numbers, but no matter how much pressure you're under, you can't go out and make false and misleading statements on an analyst call, or to the investors, to the employees, to the regulators, you can't do that. And if you do, then you're going to get indicted potentially and be accountable for that.
John Emshwiller: Skilling and his lawyers argued that he never lied to anyone. That he was open about the tough situation the broadband market was in, but that he maintained optimism for employees and investors. Skilling testified in court that he told employees, "We're going to make this business work. We've just got to get through the next couple of years, and it's bad."
Mike Anderson: There's a tendency in Silicon Valley to fake it till you can make it.
John Emshwiller: There it is again, fake it till you make it, Potemkin Village. As long as you win in the end.
Mike Anderson: Again, only Jeffrey Skilling could explain this, but in his mind, maybe he's thinking he can find some way to turn things around. And if he's able to do it, nobody will ever know what the problems were.
John Emshwiller: I too, still wonder what was going through Jeff Skilling's mind, especially in those months before he shockingly quit as CEO in August of 2001. Sure, Enron had problems, some other big ones, but also still had impressive strengths, a mammoth trading operation, a huge pipeline system, moving gas and collecting cash, profits each quarter. But much of Enron's financial success rested on its stock price staying high. Which in turn required analysts like Carol Coale to believe in it, to believe the story it was telling. Did that pressure push Skilling to be too optimistic to the point of lying, to the point of committing felonies?
Mike Anderson: So you have to establish the intent. Now, can you say it's because they were greedy? Yeah, but you got to be able to prove that.
John Emshwiller: The questions about what was in Jeff Skilling's mind would help define one of the biggest corporate criminal trials ever. For her part, Carol Coale still gives Skilling the benefit of the doubt.
Carol Coale: It was a story stock. It was a story because they were conceptualizing and then executing. So the investors had to buy into the concept before they actually executed. But in the beginning, they appeared to be executing, and it just was a growth stock… I call it a growth story stock because the idea or the concept preceded the actual earnings that they generated from those businesses.
John Emshwiller: This is one reason it's so hard to get white-collar criminal convictions. You can't put someone in prison just because their idea didn't pan out. Prosecutors would have to prove Skilling knowingly committed a crime. My colleague, Rebecca Smith and I, continued investigating Enron. We found things that were much more troubling than a few acts of theater performed for analysts and investors. An insider called to tell us about a scheme involving hundreds of millions of dollars.
Speaker 9: I remember thinking how can a CFO of a major company be general partner of a private equity fund?
John Emshwiller: Other people inside Enron were also noticing problems, but they didn't go public until it was all over.
Speaker 10: I was highly alarmed by the information I was receiving. I was not comfortable confronting either Mr. Skilling or Mr. Fastow with my concerns. To do so, I believed would've been a job terminating move.
John Emshwiller: The story of the whistle blowers, that's next time on Bad Bets. This episode of Bad Bets was hosted by me, John Emshwiller. The original reporting on which this season is based was done by Rebecca Smith and me. Bad Bets is a production of the Wall Street Journal.
This season was produced in collaboration with Neon Hum Media. From the Wall Street Journal, Kateri Yoakum is the executive producer of this podcast. Dan Rosen is the co-executive producer of WSJ studios. Anthony Galloway is the global head of video and audio at the Wall Street Journal. From Neon Hum Media, Muna Danish and Hayley Fager reported, wrote and produced this season. Nafala Cato is the associate producer. Story editing by Annie Gilbertson and Vicon Patel. Sammy Allison is the production manager. Sound design and engineering by Scott Somerville. And the executive producers from Neon Hum are Sherra Morris and Jonathan Hirsch.
This episode was fact checked by Justin Klasko. The theme song and many of the tracks you hear in this series were composed by Hans Dale Sue. The other music in this season of Bad Bets is from Epidemic Sound and Blue Dot Sessions. Subscribe and listen wherever you get your podcast. I'm John Emshwiller, thanks for listening.
Source link
Viewers of Netflix's latest and greatest hit know there is no such thing as easy money when the stakes are high, no matter how basic the game. Social-media investors are learning the same lesson. Shares of Snapchat owner
Snap Inc.
lost almost a quarter of their value Thursday evening after it reported results.
Making money in the stock had seemed like child's play. If you bought Snap back in mid-March of last year, you had yourself a "nine bagger," with shares up more than 890% in around 18 months. Over the last two years, Snap has dominated even its high-performing social-media peers.
Copyright ©2021 Dow Jones & Company, Inc. All Rights Reserved. 87990cbe856818d5eddac44c7b1cdeb8
Source link
$SSB Token (SatoshiStreetBets) is excited to unveil its business model and roadmap. As an accelerated hyper-deflationary token, the team brings new elements to the table for tokenomics and utility.
Moreover, it will serve as a portfolio diversification tool when users stake $SSB on the Satoshi Stake platform.
$SSB Token introduces several new features to the cryptocurrency industry. Building an accelerated hyper-deflationary distribution model, combined with a long-term business-oriented roadmap, requires a different take. Nevertheless, several features of the tokens stand out, both for tokenomics and utility.
The first innovative feature is "Buy The Dip" or BTD. $SSB Token is the industry's first asset to reward buyers when buying the dip. Any buys made 10% below the 4-hour ATH are rewarded with a reduced buy tax of up to 11%. Not only does $SSB Token reward buyers with the lowest possible taxes, but it is a free bonus for those who were purchasing the token either way.
Buy The Dip is a powerful solution, yet it only reaches its full potential when combined with the Leviathan Buyback. The automated feature serves as a 6% buyback tax applied to every transaction through $SSB Token. The 6% tax is converted to BNB and stored inside the Leviathan contract to personally buy back tokens from the market.
The innovative part is how this process occurs through automated learning and scheduling. After every buyback, the rough seas sales tax ramps up to 2.5x for 30 minutes and then decays back to the base tax protecting the Leviathan buyback mechanism — all bought back tokens are then burned immediately reducing overall supply.
To build an ecosystem for $SSB Token, the team opts for a multi-pronged approach. The first core feature is the 3% buyback tax on every transaction through the Lottery/promotion contract. Additionally, the Lottery will serve community giveaways, contests, and prizes, incentivizing users to hold $SSB Token for the long term. In fact, the demand for the community sale has been so feverish that both a Lambo and Telsa giveaway are fully funded and active prelaunch.
Additionally, long-term holders can explore Satoshi Stake to earn various cryptocurrencies. Staking pools consist of $SSB clients' tokens and projects partnering with the $SSB project. Community members can exert governance by voting on which new projects to support through the staking pools.
$SSB Token holders will gain access to "The Streets", an exclusive marketplace with various non-fungible tokens created exclusively for this marketplace. In addition, $SSB Holders can also explore live auctions and acquire purchase discounts when using $SSB.
"Shark Tank" inspired Satoshi Tank will host panel pitches from fledgling projects, community members will vote with their token holdings to determine who receives a grant from $SSB.
Last but not least, the SatoshiStreetBets Radio, or $SSB Radio, serves as the first-ever satellite cryptocurrency radio show. The focus lies with education, investment strategies, new project AMAs, and industry-oriented promotions.
In addition, holders of $SSB Token can participate in games, contests, and giveaways. SatoshiStreetBets Radio aims to become the trusted source for new cryptocurrency projects, education, and investment knowledge.
To date, SatoshiStreetBets has raised over $1.5 million. The features outlined above are all essential cogs in the machine powering the broader $SSB ecosystem. Additionally, the team's code has been audited by CertiK to provide more transparency and legitimacy.
ABOUT $SSB (SatoshiStreetBets)
The $SSB CORE Team is comprised of business professionals and cryptocurrency veterans and each member brings a wide range of special talents and abilities to the project.
With over 100 years combined experience in traditional business and over 30 combined years in cryptocurrency, the $SSB CORE team has the knowledge, experience, and resources required to launch a successful project.
We are excited to launch the $SSB Token and are looking forward to growing with our amazing community! Thank you for being apart of the $SSB family.
Social Channels: Telegram | Twitter | Token Telegram | Token Twitter | Token Website.
Disclaimer

All the information contained on our website is published in good faith and for general information purposes only. Any action the reader takes upon the information found on our website is strictly at their own risk.
By Dhirendra Tripathi
Investing.com – Trading in Digital World Acquisition stock (NASDAQ:DWAC) was halted several times Thursday while the stock soared 194% after the news of the SPAC's merger with former U.S. President Donald Trump's planned social media platform sent traders into a buying frenzy.
More than 323 million shares of the company had exchanged hands on the Nasdaq as of 1:05 PM ET.
A SPAC, or special purpose acquisition company, is a blank-check company that uses proceeds from an IPO to take private firms public. It is usually set up by high profile people with relevant industry experience and that's what gets it the initial valuation with the subsequent transaction bringing it the final value.
DWAC was the most actively traded stock as of midday Thursday among NYSE and Nasdaq listings.
In a sign that it has the backing of the retail traders active on social media, the stock featured among the top 10 most popular names on Reddit's WallStreetBets, whose members were behind the meteoric rise of meme stocks like GameStop (NYSE:GME) and AMC Entertainment Holdings Inc (NYSE:AMC).
Trump Media & Technology Group announced the combination Wednesday. Trump also said he would roll out the platform 'TRUTH Social,' that he claims will "stand up to the tyranny of big tech."
The press release announcing the deal said the Trump company will have "at an initial enterprise value of $875 million."
DWAC was incorporated late last year, soon after Trump lost his re-election bid.
Its CEO, Patrick Orlando, is also the CEO of Yunhong International, according to regulatory filings. Yunhong lists Wuhan, China, as its headquarters, the city the coronavirus originated from and a place Trump often associated with the virus.
The SPAC's chief financial officer Luis Orleans-Braganza, is a member of Brazil's parliament, according to a regulatory filing.
Trump has been off social media as both Facebook (NASDAQ:FB) and his then favorite, Twitter (NYSE:TWTR), banned him from their platforms for his alleged role in inciting the January 6 Capitol riot. Since then, Trump has been exploring ways to restore his once-sizable social media presence.
Related Articles
Trading in Trump-linked SPAC Halted Many Times as Stock Soars 194%
U.S. CDC advisers weigh Moderna, J&J COVID-19 vaccine boosters, mix-and-match shots
Pfizer, BioNTech say COVID-19 booster shot showed high efficacy in large study
Source link
Steve Huffman
is co-founder and chief executive officer of the social-media platform Reddit Inc., which earlier this year was at the center of a stock-market craze during which individual investors in one of its online communities rallied together to buy stocks such as
GameStop Corp.
In an interview at The Wall Street Journal's Tech Live conference, Mr. Huffman spoke with technology reporter Deepa Seetharaman about the frenzy around the WallStreetBets forum and the possibility of Reddit becoming a public company.
Edited excerpts follow.
MS. SEETHARAMAN: Earlier this year, you guys were in the news for the subreddit WallStreetBets, where a lot of different users were egging people on to buy shares of heavily shorted stocks like GameStop. It has been several months. How do you think about that situation with the benefit of time?
MR. HUFFMAN: In that moment, with everything swirling around, the series of decisions that we were making was: What's going on here? Is there a problem here? Is there an area where we need to intervene or do something?
And we came to the conclusion that it's actually very important that that community stay online. There is, of course, external pressure, and then we saw our own internal challenges with the influx of traffic and attention just straining our systems.
Looking back on it, I'm proud of how we articulated what's important about that community because it is complex. There is a lot of nuance there, and the broader theme of the power of community. And seeing a window into this community of retail investors, how they're thinking, what's going on, was really valuable.
MS. SEETHARAMAN: So you still think it's a good thing? That it was a great development?
MR. HUFFMAN: Overwhelmingly.
MS. SEETHARAMAN: Regulators have been probing whether or not that surge broke the law. Have you been involved in those conversations?
MR. HUFFMAN: Our statements on this have been pretty much in line with my previous answer, which is people are allowed to talk about stocks. In fact, it's important that people talk about stocks.
MS. SEETHARAMAN: How do you sort out whether you have market manipulation happening versus just a grass-roots movement talking about these stocks?
MR. HUFFMAN: That's a great question. Manipulation isn't allowed on Reddit. In fact, manipulation is one of the biggest areas within our kind of anti-evil efforts. Ranging from trolls having a volume louder than their numbers should allow, or maybe even a savvy marketer trying to get the best of Reddit to promote their stuff, or spammers—I guess the latter two are really the same—that's where we've put a lot of effort for well over a decade now.
MS. SEETHARAMAN: Did you say anti-evil efforts?
MR. HUFFMAN: Yes, anti-evil is our name for our safety team. They help write our policies and the tools to enforce those policies at scale.
MS. SEETHARAMAN: We've been talking about content moderation in the Valley for a long time. How do you view your progress since the 2016 election in terms of cleaning your platform and making sure it's safe?
MR. HUFFMAN: We've made a lot of progress. Now, I always follow that with, "And there's more work to do." We have evolved our policies a number of times. We've also evolved our ability to articulate those policies, which I think is very important, and our ability to enforce them at scale.
What is unique about Reddit is the empowerment of our communities. Every post and comment on Reddit has both the up and down arrows. And it's really our first and probably most effective line of defense because people create these communities on Reddit for themselves. They want to have nice spaces. They want to be free of interference. They want to talk about their interests and passions. And so their ability to reject behaviors and content that doesn't fit within their communities is very powerful.
MS. SEETHARAMAN: Last year, you took down "The Donald," a forum used by supporters of
but not before having all kinds of toxic behavior. Do you think you were too slow to do that?
MR. HUFFMAN: "The Donald," like many of these decisions of ours that live in the gray area, was complex. There's no difficult decision I've made where I haven't also thought, "Well, if I understood it the way I understand it now, we would have done things differently."
But it was a journey to get there. That community, among many things, was very good at living in the gray area. That was kind of the problem. The ethos of the community, among other things, was predicated on being a pain in the ass, on wasting our time.
MS. SEETHARAMAN: The former CEO of Reddit,
Ellen Pao,
a year ago tweeted that Reddit had become a safe haven for white supremacists and that taking down "The Donald" wasn't enough. Do you agree with that characterization?
MR. HUFFMAN: I don't. When I returned to Reddit in 2015, among other things, it was to address this issue. And among the first things that I and the team did was evolve our policies, and ban some of the worst communities of that nature that were created and thrived under my predecessor's watch.
Reasoning through these things and articulating them at scale and enforcing them at scale is never straightforward. But I'm proud of the progress we've made.
MS. SEETHARAMAN: When you take a step back and look at the company as it's evolved over the last five years, do you think Reddit is ready to go public? What's your thinking on that?
MR. HUFFMAN: We're getting there. I'm excited to be a public company because, among other reasons, I want the ownership that our users feel over their communities on Reddit to have an opportunity to be matched in real ownership.
MS. SEETHARAMAN: What's your sense of timing?
MR. HUFFMAN: No commitment yet. But we are at work.
MS. SEETHARAMAN: Are you thinking direct listing, SPAC or straight initial public offering?
MR. HUFFMAN: No decisions there yet either. But the market is evolving. I think there are things we can do now that maybe weren't options even a couple of years ago.
MS. SEETHARAMAN: Like what?
MR. HUFFMAN: For example, retail participation. Now you've got platforms like Robinhood and SoFi where they actually can bring their customers in to participate in the IPO. Historically, that hasn't been the case. Retail investors are usually the last to get in and probably at the worst price. The way the market is evolving there to be more fair is really exciting.
MS. SEETHARAMAN: Why is it important to get a lot of retail investors on board?
MR. HUFFMAN: Well, let's just start with, "Why is it more important to be more fair?" And maybe that's kind of the foundation. I think we spend a lot of time in the U.S. talking about wealth inequality and fairness. And those are important conversations. I think even in these moments, it's important for people to be able to participate on equal terms.
MS. SEETHARAMAN: One thing that investors, retail or not, are going to want to know about is how you're going to make money. If you think about digital advertising, that's a market that is absorbed almost entirely by Facebook and Google. How do you compete?
MR. HUFFMAN: Well, somehow we've managed to grow. I think we're up 190% year-over-year.
MS. SEETHARAMAN: Off what base?
MR. HUFFMAN: We aren't the size of Facebook, but we're growing. I think we can safely say we are a real business now. I don't think I would have said that five years ago. There are big, big players in this space, but the market is evolving.
Our pitch has been community and interests, and to our advertising customers, it is: "Come build a relationship with your customers." They are here talking about your product.
Ms. Seetharaman is a reporter for The Wall Street Journal in San Francisco. Email her at [email protected].
Copyright ©2021 Dow Jones & Company, Inc. All Rights Reserved. 87990cbe856818d5eddac44c7b1cdeb8
Source link
After a slow start Thursday morning, two of the three major U.S. market indexes have mostly recovered. The blue chips were down about 0.3%, with IBM sinking by almost 8.5% after reporting undistinguished quarterly results. The energy sector was down 1.7%, as crude prices had lost around 2.5% to trade around $81.30, after closing at $83.42 on Wednesday. Bitcoin traded down about 4.5% at $63,545, after posting a new all-time high near $67,000 on Wednesday.
Blank check company Digital World Acquisition Corp. (NASDAQ: DWAC) traded up about 150% at $24.97 following last Wednesday's announcement that former U.S. President Trump's still-to-be-formed Trump Media and Technology Group will come public in a reverse merger with Digital World, probably in the second quarter of next year. Tradable warrants (DWACW) are up about 1,250% at around $7.00. The warrants closed most recently at $0.52. We're speechless.
In real meme stock news, Camber Energy Inc. (NYSEAMERICAN: CEI) continued to show huge trading volume, even though the company has had no specific news and was trading down sharply at noon. The chatter on WallStreetBets in the morning included a comment that there were no shares available to sell short. A later comment reported that the short borrow fee had jumped to 130%. The day was still only half over, so anything could happen with this stock by the closing bell.
Tesla Inc. (NASDAQ: TSLA) was the subject of more social media discussion than almost any other single stock. While not a bona fide meme stock, it can't be ignored. As we noted in our morning look at meme stocks, in addition to better-than-expected earnings and revenue, Tesla's outlook suggests solid growth going forward.
TMC the metals company Inc. (NASDAQ: TMC) traded down nearly 5% in the noon hour Thursday at $3.51. The Financial Times had a story earlier this week about how at least one of the company's investors failed to cough up about $200 million at the time of the SPAC IPO. We wrote about that in September, but, let's face it, the Financial Times has more readers and more clout.
As the noon hour drew to a close, Digital World's stock traded up about 182% to $28.22, in a 52-week range of $9.84 to $29.50. The high was posted in the morning. Trading volume had passed 315 million shares and showed no sign of slowing. The daily average has been 130,513.
Camber Energy stock traded down nearly 8.3%, at $1.65 in a 52-week range of $0.33 to $4.85. The average daily volume is nearly 191 million shares, and about 78 million had already been traded on the day.
Tesla traded up about 3.2% to $893.61, after reaching an intra-day high of $900.00, just 40 cents short of the stock's 52-week high. Thursday's trading volume was nearing 24 million shares, compared to a daily average of around 18.5 million.
TMC traded down about 4% to $3.54, in a 52-week range of $3.36 to $15.39. The average daily volume is around 10.7 million shares, and fewer than 2.5 million had traded thus far on Thursday.
Get Our Free Investment Newsletter
Source link