Tesla is the most sought out stock company to invest in this year, attaining at least 13 million Google searches per month on average according to a new study by software company Bacancy Technology.
Read:
Following the company's analysis of the top 30 stocks that most people are investing in globally this year, the analytical data was narrowed down to the 10 most searched-for stocks based on Google search volumes.
Apple came in second, with 5.9 million searches.
Amazon took third place with 3.1 million searches, followed by German biotech company BioNTech SE with 2.99 million and US pharmaceutical and biotechnology company (known for contributing towards developing the Covid-19 vaccine) Moderna Inc with 1.7 million searches.
"Investment apps [are] making it simpler for the public who may not have any financial experience or knowledge to invest and get involved in the stock market and trading," Bacancy commented.
As such "there [has] been [a] rise in the public interest into trading."
Microsoft ranks sixth, with over one million Google searches. MicroStrategy Incorporated, a company that provides business intelligence, mobile software, and cloud-based services, is in seventh position, with 830 000 searches per month on average.
"After the recent outage across Facebook the stock fell by 5% as a result, which puts them in eighth with 777 000 Google searches per month. Visa Inc ranks ninth receiving 239 000 Google searches," Bacancy added.
Occupying the last place in the top 10 is Coca-Cola, with 231 000 Google searches per month on average.
Palesa Mofokeng is a Moneyweb intern.
Source link
Tesla reported its earnings for the third quarter on Wednesday, posting company records in both revenue and profits.
Total revenue grew 57% year-over-year, while operating income improved to $2bn compared to the same time in 2020, resulting in a 14.6% operating margin, according to a report issued by the California-based automaker Wednesday after market hours.
Year-over-year, operating income is up due to vehicle volume growth and cost reduction, while some of the quarter's positives were partially offset by growth in operating expenses, lower regulatory credit revenue, additional supply chain costs and Bitcoin-related impairment of $51m.
Tesla Q3 2021 Vehicle Production & Deliveries
Throughout the third quarter, Tesla built approximately 238,000 vehicles, while delivering more than 240,000 new cars.
According to the company release, final numbers could vary by up to 0.5% or more.
Meanwhile, Tesla vehicle deliveries represent only one measure of the company's financial performance and should not be relied on as an indicator of quarterly financial results.
Production and delivery tallies for the third quarter include 8,941 new Model S/X vehicles with 9,275 new deliveries and 228,882 new Model 3/Y vehicles with 232,025 new deliveries.
Simple and intuitive platform
Market reply and shift to EV
Ahead of the report, Bank of America raised its price objective for Tesla shares higher to $900 per share from $800.
Data compiled by Alix Partners shows electric vehicles, including fully battery electric cars like Tesla's, are on track to make up 28% of all new light commercial and passenger car sales worldwide by 2030.
From the federal government's perspective, the Biden administration is pursuing a 50% reduction in greenhouse gas emission throughout the US by 2030.
At the close of trading on Wednesday, shares for Tesla were 0.49% lower.
Tesla stock predictions
In March, ARK Invest, a US-based investment management firm, estimated Tesla stock could reach $1,400 per share by 2024 and more than double that mark in 2025 to peak at $3,000.
To determine an accurate trajectory for Tesla shares in the ARK report, the study used 34 inputs to generate 40,000 possible outcomes. The possibilities produced gave Tesla a 25% chance of reaching $1,500 per share by 2025.
Ready to get started?
Capital.com Download
Capital Com is an execution-only service provider. The material provided on this website is for information purposes only and should not be understood as an investment advice. Any opinion that may be provided on this page does not constitute a recommendation by Capital Com or its agents. We do not make any representations or warranty on the accuracy or completeness of the information that is provided on this page. If you rely on the information on this page then you do so entirely on your own risk.
Madison Funds, an investment management firm, published its "Madison Investors Fund" third-quarter 2021 investor letter – a copy of which can be downloaded here. A quarterly portfolio return of 0.07% was recorded by the fund's Class Y shares for the third quarter of 2021, with an 11.86% gain on a year-to-date basis, compared to the S&P 500 Index's gains of 0.58%, for the third quarter and 15.92% year-to-date (YTD). You can take a look at the fund's top 5 holdings to have an idea about their best picks for 2021.
Madison Funds, in its Q3 2021 investor letter, mentioned The Progressive Corporation (NYSE: PGR) and discussed its stance on the firm. The Progressive Corporation is a Mayfield, Ohio-based insurance company with a $55.1 billion market capitalization. PGR delivered a -4.73% return since the beginning of the year, while its 12-month returns are up by 0.65%. The stock closed at $92.62 per share on October 19, 2021.
Here is what Madison Funds has to say about The Progressive Corporation in its Q3 2021 investor letter:
"Regarding business activity, we have had companies report disruptions to current economic results from the aforementioned logistical challenges. Progressive Corporation continues to see higher accident frequencies and severities as people are driving more this year than last, and more recklessly. We expect Progressive to utilize its superior data capabilities to reprice its policies for improved profitability going forward."
Adam Gregor/Shutterstock.com
Based on our calculations, The Progressive Corporation (NYSE: PGR) was not able to clinch a spot in our list of the 30 Most Popular Stocks Among Hedge Funds. PGR was in 44 hedge fund portfolios at the end of the first half of 2021, compared to 45 funds in the previous quarter. The Progressive Corporation (NYSE: PGR) delivered a 0.21% return in the past 3 months.
Hedge funds' reputation as shrewd investors has been tarnished in the last decade as their hedged returns couldn't keep up with the unhedged returns of the market indices. Our research has shown that hedge funds' small-cap stock picks managed to beat the market by double digits annually between 1999 and 2016, but the margin of outperformance has been declining in recent years. Nevertheless, we were still able to identify in advance a select group of hedge fund holdings that outperformed the S&P 500 ETFs by 115 percentage points since March 2017 (see the details here). We were also able to identify in advance a select group of hedge fund holdings that underperformed the market by 10 percentage points annually between 2006 and 2017. Interestingly the margin of underperformance of these stocks has been increasing in recent years. Investors who are long the market and short these stocks would have returned more than 27% annually between 2015 and 2017. We have been tracking and sharing the list of these stocks since February 2017 in our quarterly newsletter.
At Insider Monkey, we scour multiple sources to uncover the next great investment idea. For example, lithium mining is one of the fastest-growing industries right now, so we are checking out stock pitches like this emerging lithium stock. We go through lists like the 10 best EV stocks to pick the next Tesla that will deliver a 10x return. Even though we recommend positions in only a tiny fraction of the companies we analyze, we check out as many stocks as we can. We read hedge fund investor letters and listen to stock pitches at hedge fund conferences. You can subscribe to our free daily newsletter on our homepage.
Disclosure: None. This article is originally published at Insider Monkey.
Source link
Between Elon Musk's two largest companies, investors and experts have a long-term favorite.
Most "institutional investors and industry experts" surveyed by Morgan Stanley expect SpaceX to become more valuable than Tesla and see it as a more attractive investment.
"The majority of our clients (by survey and client discussions) believe SpaceX could ultimately command a higher valuation and significance than even Tesla," Morgan Stanley analyst Adam Jonas wrote in a note Tuesday.
Tesla has a market value of $858 billion. SpaceX reached a valuation of $100.3 billion after a secondary share sale, CNBC reported earlier this month.
Morgan Stanley issued the survey about Musk's companies with two questions: "Which do you think is a more attractive investment from here?" and "Which do you think has the potential to be a more valuable company over the long term?"
Out of 32 responses, 63% of those Morgan Stanley surveyed answered SpaceX to both questions.
"From our investor conversations, the sentiment on SpaceX has increased substantially along with the company's valuation in the private market," Jonas said.
SpaceX: The "Apex Player" in space
Jonas said that "investors are beginning to appreciate the potentially wide-ranging use-cases for SpaceX's reusable launch architecture across communications, transportation, earth observation and other space-related domains."
SpaceX is "clearly seen" as the "Apex Player" in the global space industry, Jonas said. The sentiment shows in its soaring valuation, which makes it the second-most valuable private company in the world, according to CB Insights.
The company's valuation has spiked in the last few years as SpaceX has raised billions to fund work on two capital-intensive projects: Starship and Starlink.
Starlink is the company's plan to build an interconnected internet network with thousands of satellites, known in the space industry as a constellation. The project is designed to deliver high-speed internet to consumers anywhere on the planet.
SpaceX has launched 1,740 Starlink satellites to date. The network has more than 100,000 users in 14 countries who are participating in a public beta. Service is priced at $99 a month.
Starship is the massive, next-generation rocket SpaceX is developing to launch cargo and people on missions to the moon and Mars. The company is testing prototypes at a facility in southern Texas and has flown multiple short test flights.
Reaching orbit is the next step in testing the rocket. SpaceX is awaiting regulatory approval for its next launch.
"In our view, having access to nearly unlimited sources of capital will be an extremely important part of the narrative around building the space economy," Jonas added.
Morgan Stanley, in a separate note Monday, also said that "more than one client" has suggested that Musk may become the first trillionaire, because of SpaceX.
Become a smarter investor with CNBC Pro.
Get stock picks, analyst calls, exclusive interviews and access to CNBC TV.
Sign up to start a free trial today.
Source link
© Reuters. FILE PHOTO: FILE PHOTO: The logo of car manufacturer Tesla is seen at a branch office in Bern, Switzerland October 28, 2020. REUTERS/Arnd Wiegmann/File Photo/File Photo
By Aditi Shah and Aditya Kalra
NEW DELHI (Reuters) – Tesla (NASDAQ:) Inc has urged Indian Prime Minister Narendra Modi's office to slash import taxes on electric vehicles before it enters the market, four sources told Reuters, ratcheting up demands that faced objections from some Indian automakers.
Tesla wants to begin selling imported cars in India this year but says taxes in the country are among the highest in the world. Its request for tax cuts – first reported by Reuters in July – prompted objections from several local players, who say such a move would deter investment in domestic manufacturing.
Tesla executives, including its head of policy in India, Manuj Khurana, took the company's demands to Modi's officials last month in a closed-door meeting, arguing that the taxes were too high, four sources familiar with the discussions said.
During the meeting at Modi's office, Tesla said that India's duty structure would not make its business in the country a "viable proposition", according to one of the sources.
India levies an import duty of 60% on electric vehicles that cost $40,000 or less, and 100% duty on those priced over $40,000. Analysts have said that at these rates Tesla cars would become far too costly for buyers and could limit their sales.
Tesla has separately also put in a request for a meeting between its Chief Executive Elon Musk and Modi, three of the sources said.
Modi's office and Tesla, as well as its executive Khurana, did not respond to a request for comment.
It is not clear what Modi's office specifically told Tesla in response, but the four sources told Reuters government officials are divided over the U.S. automaker's demands. Some officials want the company to commit to local manufacturing before considering any import tax breaks.
Concern about the impact on the local auto industry is also weighing on the government, the sources added.
Indian companies such as Tata Motors (NYSE:), which recently raised $1 billion from investors including TPG to boost EV production locally, has said giving Tesla concessions would be contrary to India's plans to boost domestic EV manufacturing.
One of the sources, who has direct knowledge of the government's thinking, said: "If Tesla was the only EV maker, decreasing duties would have worked. But there are others."
The transport minister said this month Tesla should not sell made-in-China cars in India and should manufacture locally instead, but Tesla has indicated it first wants to experiment with imports.
Musk said on Twitter (NYSE:) in July that "if Tesla is able to succeed with imported vehicles, then a factory in India is quite likely."
The Indian market for premium EVs is still in its infancy and charging infrastructure is scarce. Just 5,000 of the 2.4 million cars sold in India last year were electric.
One government official said lowering duties for a limited period to pave the way for Tesla's entry could "boost India's investor friendly image and green credentials" while also attracting more investments.
Tesla CEO Elon Musk has said the fundamental good the electric car maker does will be measured in the acceleration of the world to sustainable energy.
Tesla's role in the auto industry's move to electrification is undeniable. Many major automakers are now investing billions in EV and battery manufacturing, and consumer interest in EVs continues to grow. While a Pew Research Center survey this summer found only 7% of U.S. adults currently had an electric or hybrid vehicle, 39% said they were considering an electric vehicle to be the next car they bought.
"One of the many things he did is he pushed the industry toward taking EV seriously," former Ford CEO Mark Fields said of Musk.
Tesla didn't surpass 1% share of new car sales until 2018, but during the first half of 2021, Tesla's share of the all-electric segment of the auto market stood at about two-thirds.
"Profitability as a pure EV maker is an accomplishment in and of itself," said Driss Lembachar, manager of transportation and infrastructure research at Morningstar's Sustainalytics.
Tesla's stock price, now near-$900, and its rise to a near-$1 trillion company, show that investors have been rewarded for sticking with a company that five years ago traded under $50 and amid constant reporting on financial struggles.
But for ESG analysts including Lembachar, "There is some room for improvement."
Beyond Tesla earnings and sales
As Tesla gets set to report its latest earnings on Wednesday and demand for its EVs shows continued growth, its balance sheet becomes less volatile, and it ramps up manufacturing around the globe — including operations in Europe and China — its success is also an indication that Tesla has passed beyond its roots as a California start-up. It's becoming a mature auto maker. That is one reason ESG experts are watching closely to see how Musk's company evolves in relation to investor concerns about environmental, social and governance issues.
Yana Kakar, global managing partner emeritus at Dalberg, said when ESG debate is boiled down to a choice between whether the product a company produces is good, such as a Tesla EV, or the way it produces the product is good, that is a mistake.
"That's a false dichotomy," she said. "There is no necessary tradeoff. It is not a zero-sum game."
How a company produces its products can be a reflection of the same values in the products it creates, and "that is entirely achievable," Kakar said.
This debate over Tesla has a parallel to the rise of Silicon Valley companies that are "revolutionizing" industries and, as a result, have to keep their focus on that primary goal and not ESG.
"That attitude has been particularly prevalent in Silicon Valley," said Jaakko Kooroshy, head of sustainable investment research at FTSE Russell. "But investors have come around to the view that a company can continue 'saving the world' and also have decent sustainability disclosures, and those disclosures do matter in the context of the company trying to save the world." He added, "The line from Tesla for a very long time was 'we are busy here saving the world so who cares about our emissions disclosures and corporate governance mechanisms."
Tesla shareholders are pressing company on ESG
The recent Tesla annual shareholder meeting showed how investor pressure is being applied to the company, with a measure for diversity, equity and inclusion reporting approved by shareholders over management objections. The vote came shortly after a legal case in which a former Tesla contract worker sued over a hostile work environment and was awarded $137 million.
ESG experts say it is a sign that Tesla shareholders are making their voices heard, but it will be another year before ESG experts and shareholders can assess any changes made by Tesla in response to the shareholder measure. Shareholder measures are non-binding, and though corporate management often enact changes in response to shareholder wins, it is not always with the scope or comprehensiveness that shareholders expected.
To date, in spite of all of the "good" the company is doing related to climate change, Tesla has not had the best ESG track record.
Paul Tudor Jones' ESG firm JUST Capital ranks Tesla among the bottom 10% of all companies on ESG — its ESG methodology is weighted more heavily to broad social issues than climate specifically.
FTSE Russell has Tesla ranked last among carmakers globally on ESG issues.
Tesla did not respond to a request for comment on its ESG philosophy.
Environment and climate
ESG ratings agencies, in the early days of the industry, don't yet agree on how to assess Tesla even on the "E" of environment with which it is synonymous.
Lembachar said on the environmental pillar in ESG, "They are one of the best … it goes without saying they produce only cars without emissions, and they have been credited for that."
But in 2018, FTSE Russell gave Tesla a "zero" on environment because even though its revenue sources are green and its cars are non-emitting, the company didn't disclose its own operational emissions.
Historically, Tesla did not provide transparency in terms of reporting its Scope 1 and Scope 2 carbon emissions, water use or waste management. But Tesla has improved as investors pressed for more information and it has started publishing more corporates disclosures in recent years, said Kooroshy, which has led to an improvement in Tesla's environmental ranking in the FTSE Russell ESG analysis.
How Tesla deals with the waste it generates, its water usage, particularly as it is starting to scale around the world and provide millions of vehicles, does matter, he said. There are many ways to produce EVs, some cleaner and some more problematic, and supply chains and sourcing of raw materials such as cobalt, which goes into batteries, and human rights and labor issues in regions where minerals are sourced, need to be considered by investors as risk factors.
"What is clear is that Tesla has made some improvements, but compared to many of its peers in the auto industry, its environmental reporting is still fairly rudimentary," Kooroshy said. "They are conscious of, and made commitments to disclose more data points in future, and as they do, when they do, we will see it reflected in those ratings."
Labor
On balance, social and governance issues remain the major hurdles for Tesla. MCSI places Tesla above average in its rankings, but not as an ESG leader.
"If you look at labor management or product safety quality, we see some issues there," said Arne Klug, vice president of ESG research at MSCI. "We couldn't say that the company's programs, in terms of labor management, or product safety, quality, are really aligned with its growth strategy based on our assessment."
In March, the National Labor Relations Board ruled that Tesla violated federal labor laws while United Auto Workers and other unions tried to organize at its original plant in Fremont, California. The NLRB also found Tesla guilty of "coercively interrogating" three employees over unionizing activities, illegally firing another and disciplining another.
For JUST Capital, worker issues are one of the primary reasons Tesla gets "tripped" up in its rankings, Whittaker said. How a company supports local communities, what is it doing on diversity, and what it is doing on fair pay and worker issues, are all issues that JUST weighs more heavily than climate alone in its overall ESG rankings because Whittaker said "the public weighs them highly."
The labor issues will pose a material risk to Tesla as it expands around the world, Lembachar said, as they do for any company with global operations where a confrontation with a labor force at one site can increase the risk of more general strikes. "Workforce issues can have more of an effect now that the company is getting out of this start-up stage and expanding around the world and in Europe, where there is a really strong union tradition. The company must be prepared for labor-related risks and, according to us, must have stronger labor-related programs prepared to tackle issues related to the expansion of its workforce engine around the world."
Autopilot as an ESG issue
Tesla is facing investigations from the National Highway Traffic Safety Administration regarding Autopilot, the automated driving technology currently in Tesla's Models 3, S, X and Y in 2021.
While it may at first not seem obvious how self-driving is an ESG issue, it in fact falls within traditional categories that date all the way back to the days of Ralph Nader and "unsafe at any speed": product safety and passenger safety.
Lembachar said Tesla's full self-driving (FSD) is something his firm receives a lot of questions about as an ESG scoring metric, but he says it is simple: "Anything related to passenger safety is product governance and falls under the 'Social' pillar. Everything related to recalls, accidents, defects, responsibility of company is product governance."
He was quick to point out that if self-driving works it may ultimately cut down on accidents by as much as 90%, and Tesla is potentially far ahead of competitors with the technology. But in a period of time when it is being scrutinized as the cause of accidents and fatalities, self-driving remains a product governance negative, and that metric has a heavy weighting for the auto industry. That hits other companies, too, such as GM after its recent recall on electric cars due to battery fire risk. And Lembacher said these issues have a material cost: for GM, more than $1 billion in the case of the recalls. "That is a very material issue," he said.
Corporate governance and Tesla' ESG future
Even though tweets may seem ephemeral, Musk's confrontation with the Securities and Exchange Commission over controversial tweets can negatively impact the company's corporate governance score.
"In terms of corporate governance, we see the confrontation between Musk and the SEC as problematic," Lembacher said. "Tweets are problematic when they change the share price and that can be harmful for shareholders … and that's why the SEC has been flagging it. There is a risk that the regulator at some point will sanction the company and since we are running a risk rating product, we have to flag this issue."
Questions also remain about the company's acquisition of SolarCity, which was controlled by Musk's cousins (a legal case is ongoing brought by shareholders).
The corporate governance issues raise a bigger question about Musk's impact on ESG ratings.
"It is not enough to say the company is being run by a 'genius' and as a result, 'please don't ask us too many questions," Kooroshy said. "There is no doubt about the achievements of this company, particularly about accelerating the transition to sustainable energy. This is stuff for the history books, but at the end of the day, for investors trying to understand how much of a portfolio to invest in this company … not enough, he said. "It's still not a free pass. … Making these disclosures doesn't stop them from innovating."
Kakar said Tesla's mission of accelerating the transition to sustainable energy, and its focus on that as an argument in its defense, is implicitly a relative statement comparing itself to other automakers, and that is where the false tradeoff comes in. "It is terrific they are making EVs … but relative to the next guy is not the important point, and doesn't obfuscate responsibility."
Many ESG investors and ESG investment products today accentuate the "E" and climate specifically. "That's where the action is at and investors have seen it as a good story and if you think about environmental performance and climate as the big opportunities, you see Tesla as a big solution and will be attracted to it," Whittaker said.
But as any company grows in scope and scale, the range of issues they have to contend with changes and investors will ask more about the "how" behind the growing business.
"That's what is going to happen with Tesla as people become more aware of the social risk of how it operates," Whittaker said. "It is bound to become more of an issue for investors and more of an operational risk for the company if it doesn't perform well … more prominent in the overall calculus of company competitiveness and success."
"That is not to say it won't do well," he added. "Musk is an incredible entrepreneur and business leader and I am sure if it becomes an issue he thinks will affect the value of the company or brand, he will respond accordingly. I expect it will become more of an issue for the management team to have to deal with."
Source link
What's really interesting about the stock market is there are always new companies trying new things. And sometimes the stocks of these companies come out of nowhere and blow the market averages away. That's why many Fool.com contributors get excited when we hear about new companies that are "under the radar."
Everybody has heard of the mRNA stocks like Moderna and Pfizer. But did you know that early versions of the mRNA vaccines had to be kept in super-cold refrigerators? Patrick Bafuma explores the cold logistics chain. And were you aware that COVID-19 can cause deep vein thrombosis and pulmonary embolism in patients? Taylor Carmichael has a med-tech stock that is saving lives (and doubling revenue). And George Budwell has a dark-horse COVID-19 vaccine stock that has been spiking all year. Here's why our three contributors like Cryoport (NASDAQ:CYRX), Ocugen (NASDAQ:OCGN), and Inari Medical (NASDAQ:NARI).
1. A cool supply chain leader
Patrick Bafuma (Cryoport): Tell me if you have heard about a COVID-induced supply chain issue in the last few months. I realize winter holiday shopping sales seem to get pushed earlier every year, but Christmas shopping in October? Yikes. Thankfully, there are solutions for the medical supply chain. And Cryoport — with its tagline "Science. Logistics. Certainty." — is shaping up to be the industry leader.
This temperature-controlled supply chain solutions provider may be the hottest stock you have never heard about. Cryoport's mission statement sums it up best: "To support life and health by providing reliable and comprehensive temperature-controlled supply chain solutions for the life sciences." Serving the biopharma, animal health, and reproductive medicine markets, this company is on a tear — up over 3,700% in the past five years and 49% year to date. That performance over the last five years puts the company inside the top 10 for companies with a market cap over $2 billion and ahead of the likes of Shopify, The Trade Desk, Square, and Tesla.
Biopharma represented about 81% of second-quarter revenue, with the company currently supporting over 550 clinical trials — up 14% from a year ago. All of those gene therapy trials that require temperature sensitive transport from highly specialized manufacturing facilities to get to the patient's bedside? That's Cryoport's specialty.
While that sounds like a lot of clinical trials, consider that there are 1,100 regenerative medicine companies with over 1,200 clinical programs worldwide. And that the company expects the growth to continue with an anticipated compound annual growth rate of 30% to 40% for the next decade. This temperature-controlled supply chain management company already has big wins in the bag. The list of customers includes several headliners in the commercial cell and gene therapy space, including Bristol Myer's Squibb's Breyanzi, Bluebird Bio's Skysona, Bristol Myers Squibb's and Bluebird Bio's Abecma, Novartis' Kymriah, and Gilead's Yescarta and Tecartus.
All of the aforementioned therapies are still in growth mode. With support for over 550 clinical trials, surely some treatments will make it to market, resulting in further transportation needs from Cryoport. With 55% year-over-year organic revenue growth and management that makes smart acquisitions that continue to scale the company's reach, this under-the-radar company has delivered the goods for customers and shareholders alike.
2. Don't overlook this tiny vaccine player
George Budwell (Ocugen): Shares of Ocugen are up by an astounding 351% so far this year. The reason? The company is partnered with India's Bharat Biotech for the COVID-19 vaccine known as Covaxin. More specifically, the two companies have a co-commercialization agreement in place for Canada and the United States. Ocugen, for its part, is set to bank 45% of the vaccine's net sales in these two key commercial territories.
The bad news is that Covaxin has fallen way behind the leaders in the space from a regulatory standpoint. As such, the vaccine is unlikely to land an emergency authorization in either Canada or the United States. What's more, Covaxin does not appear to be as effective as the top-flight messenger RNA vaccines from either Pfizer or Moderna.
So why should investors consider Ocugen as a potential COVID-19 vaccine play? Even though Covaxin's regulatory process has taken far longer than expected and Ocugen isn't the vaccine's sole owner, this tiny drugmaker doesn't require a massive payday to move its shares. As things stand now, Covaxin will likely net Ocugen a few hundred million in sales in North America next year (assuming approval).
That amount should be enough to light a fire underneath the biotech's stock. Ocugen, after all, is only valued at $1.64 billion at the time of this writing, and the company does have other high-value assets in the clinic. That being said, this is a risky clinical-stage biotech stock — meaning investors probably shouldn't bet the farm on this under-the-radar vaccine company.
3. Another life saved by Inari
Taylor Carmichael (Inari Medical): Inari specializes in devices that remove blood clots. According to a recent study by the Radiological Society of North America, the incidence rate for pulmonary embolism and deep vein thrombosis in COVID-19 patients was 16.5% and 14.8%, respectively.
One of the joys of owning Inari Medical is that every quarter the company shares a story of how one of their products has radically changed a person's life. In Q2, Inari investors heard the story of a man who had been in a wheelchair for years because of a deep vein thrombosis in his leg. After treatment with Inari's ClotTriever, the man was up and walking.
What's really scary is a pulmonary embolism, which is a life-threatening situation caused by a clot. Back in the first quarter, CEO Bill Hoffman shared another story of clot removal. This one was a medical emergency. A woman in her late 50s suddenly collapsed in her bedroom. Her boyfriend called 911.
In the emergency room she was diagnosed with a pulmonary embolism. It was a life or death situation. The cardiologist on call had recently been trained on the FlowTriever for pulmonary embolism. He performed a thrombectomy procedure using the minimally invasive device. Within a few minutes, the doctor was able to remove a large volume of clot; the patient recovered almost immediately. And she was so happy, she later wrote a letter to Inari thanking the company for its medical device:
I'm 13 months post my event, and I have to tell you a day doesn't go by that I don't stop and realize how grateful I am. I'm totally back in the game, feel absolutely no limitations to the things I enjoy and the physical ability to do them. This is nothing short of a miracle.
Sure, we buy stocks in order to make money for our families. And there are a lot of financial reasons to buy this stock. Inari is already profitable, with 12% margin. Revenue for the quarter is growing at an astronomical 149% rate from a year ago. The company has $176 million in cash and practically zero debt. And the multiple has been cut in half. The stock was trading at 40 times sales early in the year. Now it's trading at 21 times sales.
While the stock has been flat in 2021, the company's numbers are amazing. I'm bullish for the future. But the really happy part of owning this stock is when we save lives and help people walk again.
This article represents the opinion of the writer, who may disagree with the "official" recommendation position of a Motley Fool premium advisory service. We're motley! Questioning an investing thesis — even one of our own — helps us all think critically about investing and make decisions that help us become smarter, happier, and richer.
We know investing $100k is a tough decision, but it's worth it if spent wisely. To save your time, we'll be discussing how to handle wild market swings while booking profit.
In this guide, we'll discuss the best ways to invest $100k safely and efficiently.
#1 Broker to Invest $100k – eToro
How To Invest $100k – Choose a Broker
eToro – Overall Best Broker to Invest $100k
TD Ameritrade – Best For Asset diversity
Fidelity – Best Trading Platform For Long-term Investors
Below, you'll find a detailed overview of each broker – all suited for a $100k investment.
Best Ways to Invest $100k in the US – Overview
There are thousands of investment ideas to invest $100k, but not all are reliable and safe. So, our team of experts has narrowed it down to the best five one. Following are the selected best ways to invest $100k:
Cryptocurrency – Overall, the best way to invest $100k in the US.
Stocks and Shares – Invest $100k in stocks and shares
Copy Trading – Invest $100k passively into an experienced trader
Index Funds – A way to earn with the lowest associated risk
Gold – Easy investment in gold through ETF
We have also provided a detailed analysis of each of the above investment ideas to help you choose the one that suits you.
How to Invest $100k in the US – A Quick Guide For 2021
However, financial market investing is not that easy, but it can be hassle-free if you follow the following guide.
Step 1: Sign-up at eToro – eToro is the leading broker that provides more than thousands of markets at the lowest commissions. It's by far the best option to invest $100k. Click on the "Join Now" button to open an account.
Step 2: KYC – For the security of your account, eToro will verify your identity by either asking for a passport or driver's license.
Step 3: Deposit Funds – You can easily deposit funds into your eToro account using UK/US debit or credit cards, bank transfers, and e-wallets.
Step 4: Choose an asset – As one of the best brokers, eToro supports cryptocurrencies, stocks, ETFs, commodities, and more. To choose the asset you wish to invest in, just click on the "Trade Markets" button, you will see the list of all markets that eToro offers.
Step 5: $100k investment – Once you have decided on an asset to invest in, click on the "Trade" button. Now, enter the amount you wish to invest in this asset and click the "Open Trade" button to lock the trade.
That's all it needs from you to invest in any asset in a safe and low-cost way. However, if this process sounds new to you, then do have a further detailed guide.
67% of retail investor accounts lose money when trading CFDs with this provider.
Step 1: Where to Invest $100k – Full Broker Reviews
When investing $100k into any of the financial markets, you should find a broker that is FINRA registered, can give you access to multiple markets, and provide low fees on trading.
Keeping all these factors in mind, we have selected some top US brokers to help you invest $100k in a secure and low-cost way.
1. eToro – Overall Best Broker to Invest $100k
eToro serves as one of the best trading platforms for both: beginner as well as pro traders. It is an award-winning trading platform specially designed for beginners. Anyone can open an account, deposit funds, and invest within five minutes from start to finish.
Once you have signed up, you get access to several huge markets. If you are interested in buying shares, eToro offers more than thousands of stocks from 17 exchanges. It covers stocks from the US, Europe, Asia, UK, and more. Plus, you get access to index funds and ETFs, which is excellent, especially when you have a $100k portfolio.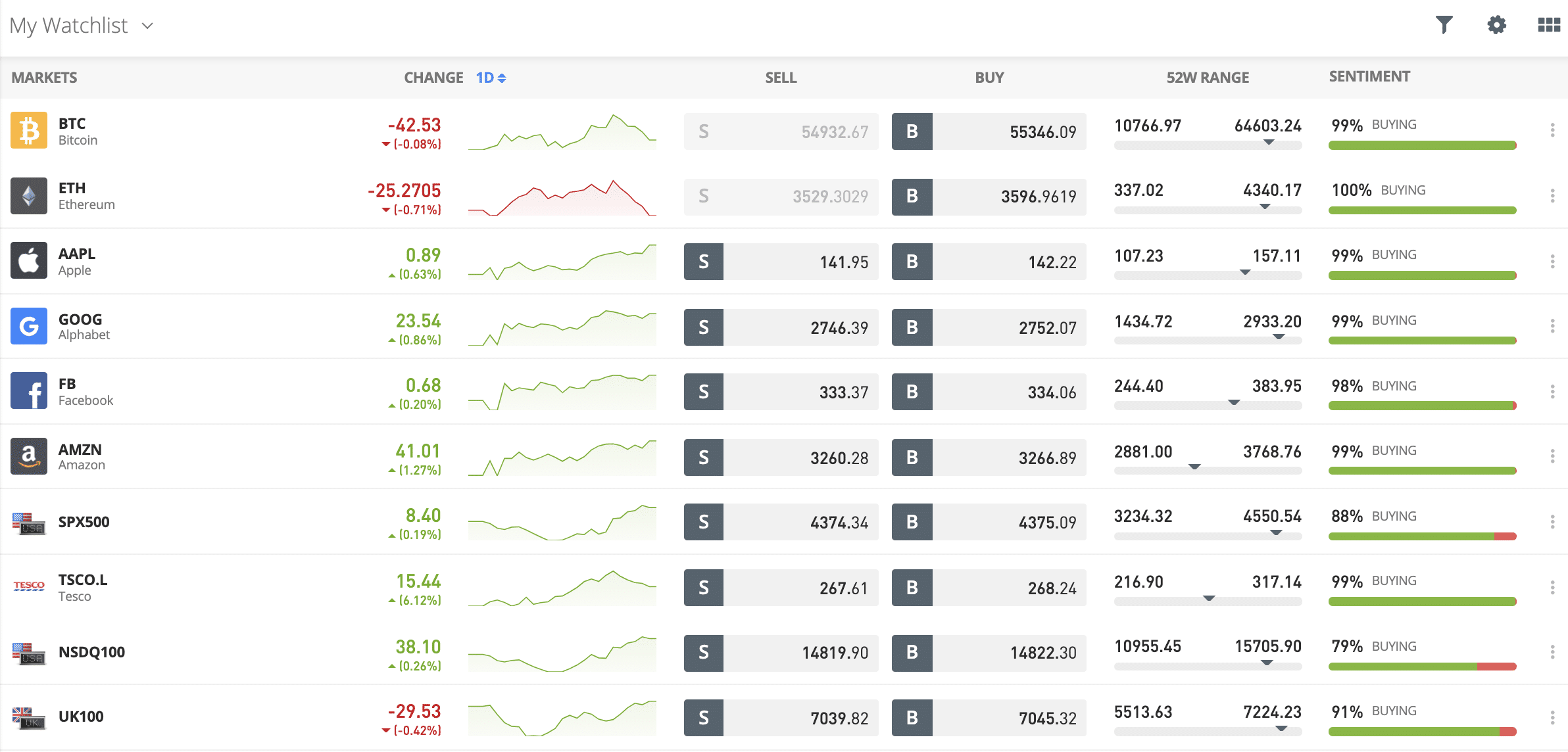 You also get access to cryptocurrencies if you know how to handle the wild market swings. The best thing about eToro is that it allows you to start trading from just $50 even if you buy Amazon shares, which are currently at $3288.
An additional feature to get started as a beginner is eToro's copy trading tool. It enables you to follow experienced traders with proven track records and book a profit equivalent to theirs. You can start depositing from any US visa and debit card. eToro also supports payment from e-wallets such as Skrill and PayPal.
Tradable securities include:
Stocks
Mutual funds
ETFs
Cryptocurrency
Forex
CFDs
Pros
Trading at 0% commission and zero stamp duty
Minimum investment starts from $50
Regulated
Copy-trading tool
Designed for beginners.
Cons
MT4 or MT5 is not supported
Extra basic for technical traders.
67% of retail investor accounts lose money when trading CFDs with this provider.
2. TD Ameritrade – Best For Asset diversity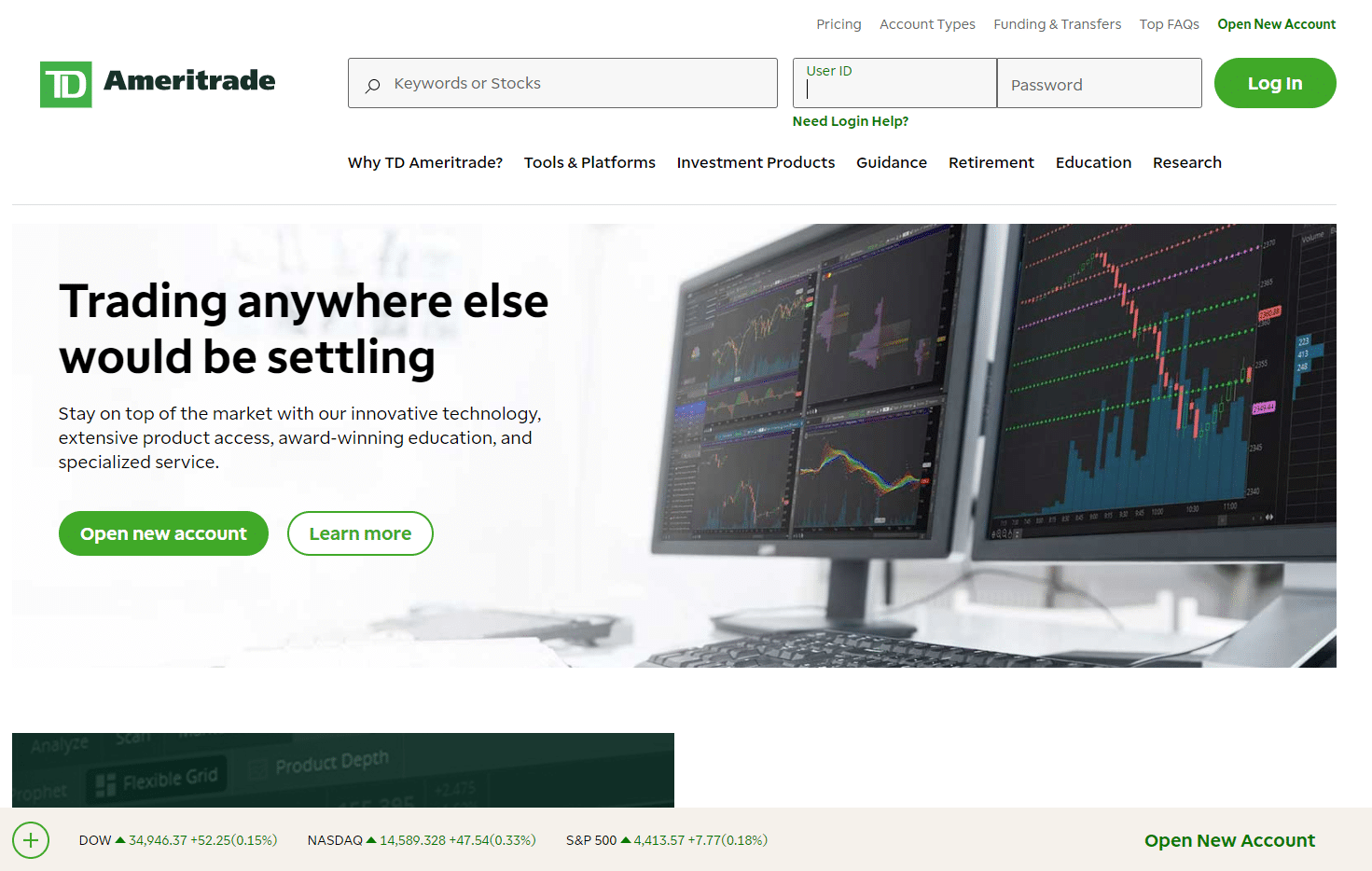 TD Ameritrade is a tough competition with a $0 fee per trade, free tools, and the availability of various financial markets. It's the best match for beginner and active traders by providing quality trading platforms, a $0 commission on online stock, ETF trading, and a large section of mutual funds. It also offers Robo-advisors to help manage your portfolio based on your goals and risk tolerances.
Ameritrade offers free third-party research supported by highly reputable sources, which include Federal Reserve Economic Database (FRED), Morningstar, and the Center for Financial Research and Analysis (CFRA). However, you won't be able to trade most cryptocurrencies on this platform, yet crypto coin trusts are available. Allowing qualified clients to trade Bitcoin futures from CME.
The tradable securities include:
Stocks
Bonds
Mutual funds
ETFs
Options
Futures
Forex
Foreign ADRs
IPOs only for verified accounts
Pros
Zero-commission
Free research
No account minimum
Vast investment section
Cons
No direct access to cryptocurrency
No fractional shares.
67% of retail investor accounts lose money when trading CFDs with this provider.
3. Fidelity – Best Trading Platform For Long-term Investors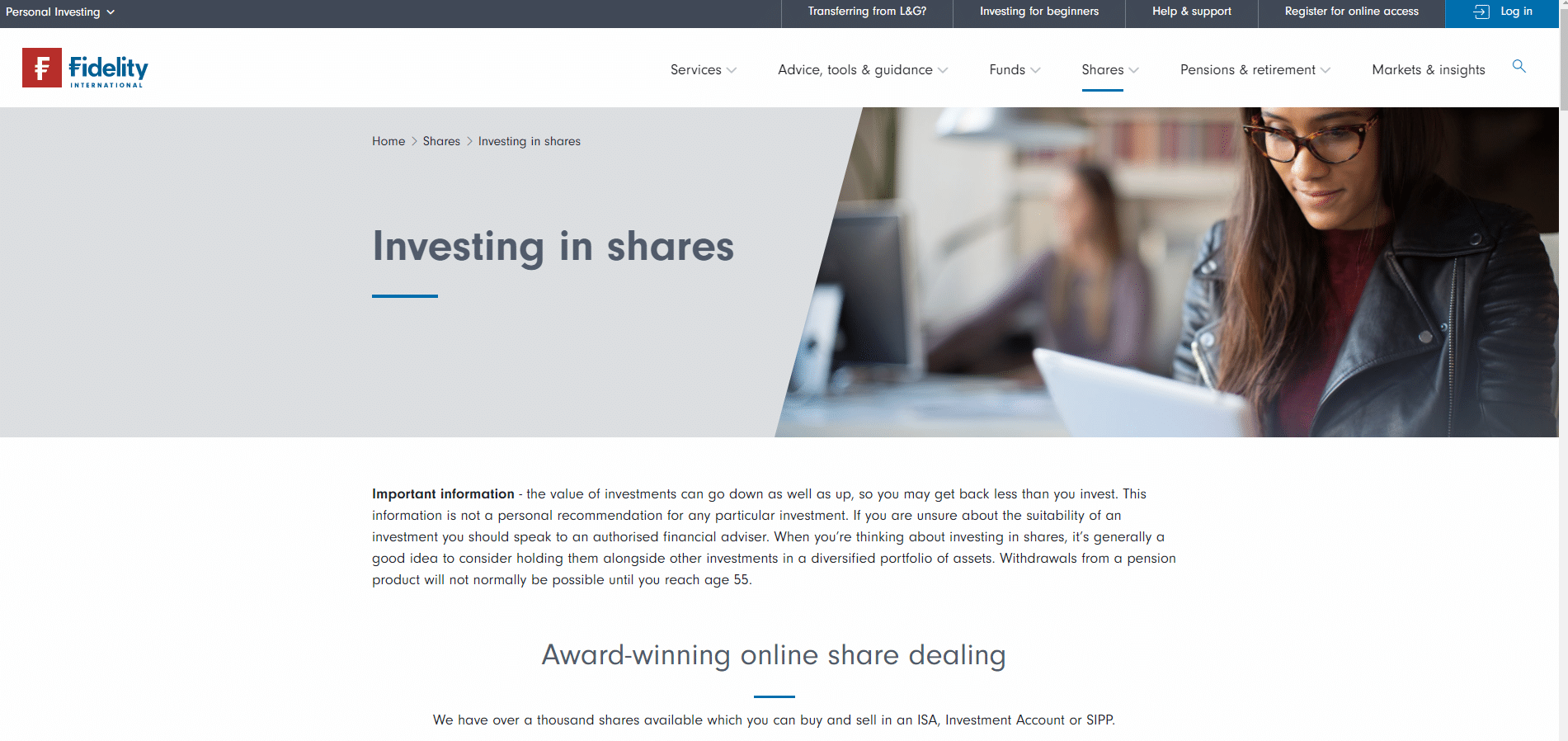 Fidelity is one of the most famous online brokers, which allows you to trade with 0$ commissions on stock, ETF, option trades, and index funds. Also, it features top-quality free research tools and an easy-to-use trading platform that is customizable for advanced traders.
The best thing about Fidelity is its educational resources and research options. Plus, it's a renowned platform among retired individuals due to its retirement planning assistance.
You won't find any cryptocurrency trading on this platform; however, crypto-based products are available.
The tradable securities of this platform include:
Stocks
Fractional shares
Bonds
Mutual funds
ETFs
Options.
Pros
Zero-commission
Strong research options
Expense-ratio-free index funds
Cons
67% of retail investor accounts lose money when trading CFDs with this provider.
Step 2: Best Way to Invest $100k – Choose an Investment
Now, as we've reviewed the top US brokers, it's time to choose an asset to invest in. As discussed earlier, you will find thousands of financial markets, each with its own risk and reward ratios. So, it's crucial to do deep research before investing.
To help you double your investment, here are the best ways to invest $100k in the US.
Cryptocurrency – Trillion-Dollar Marketplace
Cryptocurrency is a digital currency that is independent of banks for any transactions. In other words, you get complete control of your hard-earned cash in the form of a digital coin stored in a wallet.
In less than a decade now, the cryptocurrency market has surpassed $2 trillion. The highest volume coin is Bitcoin, leading with a $47.63 billion volume (24hr). Bitcoin has started from 1 cent in 2009 to $64,000 in 2021. So, imagine if you had invested $100k in 2009, you would have been a billionaire today. But, don't worry, it is still not too late.
Moreover, if you had invested $100 in DOGE coin in Jan 2021, you could have got $100k in June 2021. See, that's how there are crypto-made billionaires, and you can be one of them.
However, being the best-performing asset, crypto is also the most volatile. For instance, in June 2021, Bitcoin went from $64,000 to $30,000 in a couple of months. Then, it recovered itself to $50000 in Sept 2021.
Considering all this, if you decide to invest in crypto, you must learn various risk-management strategies, market analysis and always have ears on crypto news.
Cryptocurrency Pros
Chance of getting 1000-10,000% gains in few months
Full-control of your portfolio
New technology – high chance of getting profit
24/7 operating market
Now offered by FINRA-regulated brokers
Cryptocurrency Cons
Extremely volatile
Little regulation as it is new
High chances of scams
Stocks and Shares
Next is, investing $100k in stocks and shares of famous companies – hoping that their value will rise with time. Simply, it's like buying some property at a low price and selling it when its price goes up. The only strategy is holding shares and stocks for the long or short term. Even though some people look to trade stocks on a short-term basis, but it is too risky.
So the best way to deal with this business is by holding the shares for the long term. Because the stock market is also volatile, holding for the long-term helps go through good and bad cycles.
If you are really onto buying the stocks and shares, let me further break down the strategy of experienced traders. The stocks and shares are all about keeping a keen eye on NEWS. For instance, if research comes out that Amazon has decided to launch their Amazon Go shops in various countries. It's time you buy some Amazon shares because it's inevitable that its value will rise.
In contrast, if you see any big celebrity defaming a brand, its dump is expected, so selling its stocks will be a wise strategy. Did you know Cristiano Ronaldo's gesture of putting aside a bottle of Coca-Cola cost the company a $5 billion loss? Looking for such news is crucial if you don't want to lose your funds.
Now, when you understand how to grab profit in this business, it's time to find a trusted broker who can help you trade shares and stocks of well-known companies. Since it's best to invest in multiple companies rather than one. Experts suggest eToro exchange, where you can find companies that formed Dow Jones Industrial Average, RUSSEL 2000, and more indexes. These indexes consist of numbers of the largest firms that are publicly listed in the US.
Stocks and Shares Pros
More than thousands of stocks and shares to choose from
Full portfolio control
Many stocks pay dividends
Best for long-term investments.
Stocks and Shares Cons
No overnight profit
Volatile market.
Copy-trading
The third double-your-investment idea is by investing with the help of the Copy-trading tool of eToro. If you are a new trader and aren't getting much about trading strategies of crypto, stocks, and shares, it's a perfect trading tool for you. This tool allows you to invest while following an experienced and successful trader with a proven track record. Moreover, professional traders will help you to get the most out of this volatile market.
For instance, you decide to invest $100k into an eToro trader who has expertise in crypto. If the trader allocates 40% of their portfolio into Bitcoin, based on your investment, you will assign 40% into bitcoin automatically without lifting a finger. Then suppose the trader sells the Bitcoin at a 15% profit; you will do the same and book yourself a 15% profit without doing anything. So, it's a great way to earn without being an expert trader.
The amazing thing about eToro is that you get to copy thousands of verified trading experts in various markets. And when it comes to fees, eToro doesn't charge a penny for its copy trading tool. The only thing required is a $500 investment for copying a single trader. So, with $100k, you can copy 200 trading experts.
Copy-Trading Pros
Thousands of verified trading experts
No additional fees
eToro verified
Easy addition or removal of assets from a portfolio
Copy-Trading Cons
Your strategy won't be applicable
No 100% guarantee of getting a profit.
Index funds
No doubt, investing in the financial market as a beginner is extremely risky. Because deciding where to invest and how to book profit requires immense experience and strategies. Therefore, we suggest you stick with index funds if you are a newbie.
The reason we are suggesting index funds is that it allows you to invest in different assets passively. Because index fund managers will decide and use their experience to determine which asset to invest in. This means that you won't have to do anything after investing your amount.
Now, when you have made up your mind about investing in index funds, there are some basics that we would like to share with you. However, there are over hundreds of index funds circulating in the US marketplace. Yet, it's best to focus on authentic and long-standing index funds like S&P 500. It consists of well-known and some of the largest brands globally. For instance, investing $100k in S&P 500 means you are indirectly buying shares in Tesla, Apple, Facebook, Microsoft, Google, Amazon, Nike, and 100 more.
The notable point about an index fund is that its weightage is directly dependent on the company's performance. For example, Apple shares contribute 6.2%, whereas Amazon contributes 3.9% to the S&P 500. Plus, if you consider its price performance, the S&P 500 index has average gains of 10% annually. And you will also earn from the index fund pay dividends from most shares every three months.
If the method is what excites you the most, then you can easily invest in it from the comfort of your home. By using eToro, where the minimum stake starts from just $50. Also, eToro offers other famous index funds too. The process is straightforward.
Index Funds Pros
For inexperienced traders
Completely passive
Anytime cash-out
Extra profit from dividends.
Index Funds Cons
The index fund manager will have the most control over your portfolio
Maintenance fees apply annually.
Gold
Gold is a valuable asset whose price has been surging over recent years. Investing your money into this asset is a great idea. However, most people have a misconception that investing in gold means buying gold bars or coins that will need a safe place to keep them. Well, that's not the case in the age of online brokers.
Now, you can invest in gold in minutes using an Exchange Traded Fund (ETF). In simple words, ETF will personally buy and store gold on behalf of its investors. The best thing about it is that with the gain in the price of gold, the ETF value will also increase. So, it's like having golden bars at your house. Plus, the ETFs are highly liquid. This means that you can enter and exit the market at any given standard market hours.
When it comes to market performance, gold is quite volatile. The trends show that the bad cycles in stock markets positively impact gold's value like it was in 2008. In contrast, the stock market surging means that the gold is losing its value. So, as an investor, you might want to keep an eye on it before investing.
If this sounds great, you can easily buy the ETF from one of the well-known ETF providers, SPDR, which holds almost 1000 tons of gold. And it is also recommended by experts for trading ETFs safely.
Gold Pros
Easy investing through ETF providers
No gold storage is required
Attractive when the stock market is crashing
Gold Cons
More volatile than stocks
No profit from dividends.
Step 3: How to Invest $100k – Detailed Walkthrough
Until now, we have discussed all the best brokers and investment ideas. The final step is to show you how you can invest $100k using eToro. Let's walk you through this easy-to-use and simple platform.
Signing-up
First of all, sign in or create your account by heading over to the eToro official website and entering your personal information. Personal information includes name, email, date of birth, home address, and mobile number. After making an account, you have to verify your identity. You can complete the verification process by uploading a copy of your ID card, passport, or driver's license.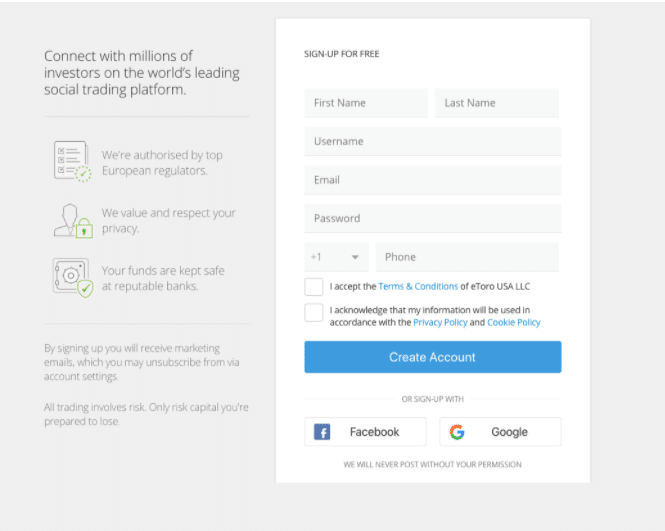 Deposit Funds
After signing up, deposit your $100k into an eToro account using any means such as US debit/credit card, e-wallet, or bank transfer. The minimum deposit is $200, just to let the beginners test the depth of the market.
Find an asset
Now, invest your funds in any of the given financial markets. To see the list of markets eToro offers, click the "Trade Markets' button, and it will bring all the markets that it supports.
Complete Investment
When you have chosen the asset to invest in, click the "Trade" button on the side of the asset. Then, you will see a dialogue box on your screen where you will decide the amount you wish to invest in this asset.
eToro operates in US dollars; you can invest by entering the amount in the given section. Now, it's up to you, whether to invest all your money in one asset or diversify it into multiple markets. Minimum investment starts from $25 on crypto and $50 on other markets.
Once you have entered the amount, click the "Open Trade" button to complete your investment.
Conclusion
Here, we have discussed some of the best ideas to invest $100k that can generate you more than what you have invested. Besides that, we've discussed a list of trusted brokers to introduce you to financial markets, so you can safely invest your money.
So we can conclude that eToro is the most suitable and trusted broker with far better options than its competitors. As it introduces you to almost every US financial market with the lowest fees you will find in the US brokerage arena. Plus, the process of investing $100k will barely take more than 5 minutes.
eToro – Best Broker to Invest $100k
FAQs
How can I double my investment fast?
What is the safest way to invest your money?
What are the stocks with the least amount of risk?
How to trade like an experienced trader?
What is the best place to invest $100k?
About Josh Osullivan
PRO INVESTOR
Source link