On October 21, the bitcoin mining pool operator Titan revealed a new decentralized hashpower routing protocol called Lumerin. The open-source project aims to commodify bitcoin's hashpower "through smart contracts, making hashpower tradable."
Bloq's Mining Arm Titan Announces the Lumerin Protocol
The bitcoin mining operation Titan, a subsidiary of the company Bloq Inc., has announced its decentralized hashpower routing protocol, "Lumerin." Titan says that bitcoin mining companies "tend to be concentrated in regions that offer cheap electricity, favorable regulation, and stable infrastructure" and it aims to solve centralization via software. The idea is to commodify bitcoin's processing power and security by leveraging smart contracts.
"The Lumerin Protocol will allow companies and individuals to buy, sell, and deliver hashpower, achieving decentralization through open market dynamics," Titan's announcement details. "Furthermore, by making hashpower a transferrable digital commodity, the Lumerin Protocol will provide a foundation for hashpower financialization as well as lending, custody, OTC, and trading services."
Titan Is Looking for Strategic Partners, Announcement Mentions 'Other Proof-of-Work Hashpower Products'
Titan was co-founded by the company's CEO Ryan Condron, former Bitcoin core developer Jeff Garzik, and the founding partner of Tally Capital, Matthew Roszak. Condron says that Titan is a significant development in the bitcoin mining space and it aims to partner with industry leaders as well.
"The new Lumerin brand and clear solution set definitions will support us in providing leading-edge advances that support the Bitcoin mining ecosystem. Titan is providing significant development effort and time to the Lumerin open source project and is actively looking for strategic partners to join us in developing this technology further," Condron remarked.
While Titan's other operations will retain the Titan brand, the newly introduced Lumerin open source project will have different software solutions. The announcement details that the project will establish a Lumerin Proxy Node, Lumerin Token, and Lumerin Wallet.
"As a result of these changes, we can now move forward with our vision to create a trustless peer-to-peer global marketplace for bitcoin mining and other proof-of-work hashpower products," Condron said in a statement. "This will allow anyone to harness the power of crypto through bitcoin mining in a decentralized way," the Titan CEO added.
What do you think about Titan aiming to commodify bitcoin's hashpower via smart contracts? Let us know what you think about this subject in the comments section below.
Image Credits: Shutterstock, Pixabay, Wiki Commons
Widely followed quantitative analyst PlanB is expecting Bitcoin (BTC) to go on a major parabolic run over the next few months.
PlanB is the creator of the Bitcoin stock-to-flow (S2F) model, which attempts to predict the price of the flagship cryptocurrency by measuring the amount of new supply entering the market each year compared to the amount of supply already in existence.
In a new Unchained Podcast interview, The Bitcoin analyst points to his S2F floor model as a reliable indicator which allowed him to nail BTC's monthly closing prices in August and September.
"The model that got the most attention the last couple of months was the floor model because I predicted on June 20th – that was the same time, by the way, that the Guggenheim chief officer predicted Bitcoin to go below $20,000 – at about that same day, I made the prediction: 'No, no, no it's going to $47,000.'
And Bitcoin was below $34,000 at that time. I said, 'Well, in August, it will close above $47,000. In September, it goes down a little but it will close above $43,000, and in October it will close above $63,000.'"
He says that if BTC is to continue following the floor price predictions of his S2F model, then it could surge over 44% from its current price of around $60,000 in November and stage another major rally in December.
"If that continues, and frankly I would be very surprised if it doesn't, that would be a black swan event that we haven't seen in the last ten years.
But if that continues, we'll go to $98,000 in November already and $135,000 Bitcoin in December, so that will be a really nice Christmas this year if that comes true."
Although he expects massive price appreciation in the coming months, he doesn't think Bitcoin will be able to avoid another large correction that has historically followed every major bull cycle.
"I don't think the world is ready yet for hyperbitcoinization or the supercycle.
I think we will be managed by greed right now and fear later on and see another – 80% after we top out at a couple hundred thousand dollars."
I
Don't Miss a Beat – Subscribe to get crypto email alerts delivered directly to your inbox

Follow us on Twitter, Facebook and Telegram

Surf The Daily Hodl Mix


Featured Image: Shutterstock/Motionic Studio/Sensvector
Bitcoin has rocketed through October, climbing as hype surrounding the first U.S. bitcoin futures exchange-traded fund (ETF) and fresh inflation fears galvanize investors.
Subscribe now to Forbes' CryptoAsset & Blockchain Advisor and discover hot new NFT and crypto blockbusters poised for 1,000% gains
The bitcoin price has added around 40% since this time last month, earlier this week hitting an all-time high of around $67,000—$2,000 per bitcoin higher than its April peak.
Now, a panel of 50 bitcoin and cryptocurrency experts has predicted the bitcoin price will continue to climb through 2021, hitting highs of around $80,000, before surging to $250,000 by 2025 and a staggering $5 million per bitcoin by 2030.
Sign up now for the free CryptoCodex—A daily newsletter for the crypto-curious. Helping you understand the world of bitcoin and crypto, every weekday
MORE FROM FORBESBinance CEO Issues Serious Crypto Price Warning As Sudden Bitcoin 'Flash Crash' Knocks Ethereum And Wider MarketBy Billy Bambrough

"As bitcoin continues to mature and increase in value, usability, age and trust, it will behave less like a growth stock, and more like a gold-like store of value," said panelist and founder of bitcoin ATM network CoinFlip, Daniel Polotsky, who believes bitcoin will end 2021 at $80,000. "Eventually bitcoin will dethrone gold as the king of safe-haven assets, and hopefully this changing of the guard takes place by the end of the decade.
The panel, put together by personal finance comparison site Finder, was asked for their predictions for the bitcoin price over late September through to early February—before bitcoin's latest break out.
The group, made up of crypto analysts, researchers and entrepreneurs, returned an average bitcoin price prediction of $80,021 in 2021 before ending the year at $71,415. By the end of 2025 and 2030, panelists expect the bitcoin price to skyrocket to an average of $249,578 and $5.2 million respectively.
"The bull run is different this year," said panelist Gunnar Jaerv, First Digital Trust's chief operating officer, who has an end of 2021 bitcoin price prediction of $70,000. "More innovations, more regulatory involvement (despite fear, uncertainty and doubt, known as FUD) and the ecosystem and infrastructure puzzles are falling into place quite nicely."
However, not all of the panel are bullish on bitcoin's prospects. University of Canberra senior lecturer John Hawkins said he thinks it's time to sell bitcoin, warning it's a speculative bubble and will eventually collapse.
CryptoCodex—A free, daily newsletter for the crypto-curious
MORE FROM FORBESTesla Billionaire Elon Musk Signals Surprise Dogecoin 'Update' Support As The Bitcoin Price Suddenly SurgesBy Billy Bambrough
"A bitcoin price collapse could be the result of disillusionment with all private crypto (with the possible exception of stablecoins with genuine backing) as central bank digital currencies demonstrate they are the future of e-currency, or it might just be because ethereum (or if it ever launches, Facebook's diem) is seen as the better crypto."
The combined crypto market has soared this year, becoming a multi-trillion dollar market as investors bet bitcoin will eventually replace gold as a major store of value and the likes of ethereum and other smart contract blockchains will help form the basis of a future digital economy—pointing to their use in decentralized finance (DeFi) and non-fungible tokens (NFTs).
The blistering crypto rally, coming after governments flooded financial systems with cash to ward off the economic effects of coronavirus lockdowns, has provoked warnings of a correction from some in the crypto space.
Earlier this week, the chief executive of bitcoin and crypto exchange Binance warned crypto traders should watch out for "very high volatility."
"Expect very high volatility in crypto over the next few months," Binance chief executive Changpeng Zhao, often known simply as CZ, said via Twitter.
Whether or not you'd believe inflation could reach World War II levels, it's clear that the global economy post-COVID-19 looks uncertain. A chasm is growing between the developed and developing markets fueled by uneven vaccination rates and Gross Domestic Product growth. Central Bank Digital Currencies (CBDCs) are set to be a key factor that'll accelerate the world economy fit for the digital age, ushering in a digitally-connected economy unlike anything we've seen before.
Despite inflation being slowly on the rise, depressed economies like the U.S. are accelerating in their adoption of new economic policies like Modern Monetary Theory (MMT), which in a nutshell enables governments to print money at will. Basically, wealthier governments aren't required to be reliant on taxes or borrowing when it comes to spending as they're able to print money on demand. The stellar rise of MMT, particularly advocated by an economy with as much impact as the U.S., sends ripple effects that not only affect the U.S. but other economies as well. In Asia, governments – particularly in mid- and small-sized economies – are waking up to the potential power and influence that CBDCs have thanks to their latest understanding of MMT.
CBDCs draw influence from bitcoin, and bitcoin itself has transformed the public's perception about money and alternative asset investments. In fact, many today consider it a hedge for inflation. Recently, crypto companies are increasingly coming under scrutiny with government action ramping up as the public's interest in crypto has made way for governments that are beginning to recognize the plurality of bitcoin's co-existence with fiat currency.
In fact, COVID-19 has accelerated an urgency to strike a balance on how this coexistence might look. Governments are looking for ways to employ an effective monetary policy that gives them more rights, with less reliance on the dollar for trade. As CBDCs hold a 1:1 value to fiat currency, they not only hold the benefits of faster, but also more secure transactions thanks to the use of blockchain technology. And for the public, it's the ideal vehicle to boost consumption, and combat money laundering, while enabling a more effective tax collection policy. China is leading this development with its digital renminbi (DCEP) and it aims to improve financial inclusion and risk control.
In Southeast Asia, we're also witnessing the emergence of a similar train of thought among governments. Cambodia's Bakong, a blockchain payment system, is being devised as its own CBDC with the goal of helping central bankers to lower the cost of international remittances. And this distributed technology ledger system is a model that even the chief fintech officer at the Monetary Authority of Singapore (MAS), Sopnendu Mohanty, believes will benefit international payment schemes as well.
Let's put it this way: Most wealthy nations' monetary policy has remained accommodative with quantitative easing continuing in the backdrop. And statistics have shown that the U.S. Federal Reserve printed $2.3 trillion in 2020 to combat COVID-19. Admittedly, the stimulus was for a noble cause; it would keep families and communities afloat.
However, how we define the success of this program isn't black and white with unintended effects. According to a survey by Pew Research Center, "About one in five (21%) say they will save a majority of the money, and 14% say they will use it to pay off debt. The remaining 10% say they'll use it for something else." Flush with cash, stimulus money was hitting Wall Street close to home with the hyper enthusiasm of buying stocks like GameStop and altcoins like Dogecoin. This exposed the already fragile financial system and raised valid questions about the efficacy of government aid programs, along with its impact on MMT in the long run.
Not to mention, the U.S.'s policy has triggered an unintended ripple effect that has had drastic consequences for emerging Asian markets – particularly in Southeast Asia. With the stimulus fueling a strengthening influence of the dollar, emerging markets risk weakened currencies against the greenback and falling deeper into debt.
It's situations like these where a CBDC can come into the picture. In the case of helping those in need with precision, CBDC-based stimulus can ensure that the spending of the stimulus money is aligned with its original purpose, which means families and communities have access to basic necessities. And the progress of these programs can be measured in real time. In short, CBDC can become a viable option for the government to subsidize an industry or community with higher precision, transparency, and effectiveness.
With increasing scrutiny from the world, the perception that the U.S. is losing its fiscal responsibility is growing according to the Council on Foreign Relations. The Council argues that "investors could lose confidence in Washington's ability to right its fiscal ship and become unwilling to finance U.S. borrowing without much higher interest rates." This perception endangers the dollar's global acceptance and of course, means self-reliance, especially in the developing world, is more important than ever.
So how does bitcoin come to play a role in all of this? On a more extreme, yet seemingly realistic alternate reality, considering the disastrous outcomes like what we've seen in Venezuela when its economy experienced hyperinflation in May 2019, bitcoin tends to become the de facto tool to counter sovereign credit risk. And governments themselves recognize this. The El Salvadoran government in 2021 recognized bitcoin as its legal tender. Other countries of course have taken a more centralized strategy by deploying their own CBDC. But regardless of the currency used, the motives are one and the same. Whether it's bitcoin or a government-backed digital currency, both offer tremendous value (albeit in different ways) to the digital economy, with more ways yet to be discovered.
As signs of an economic recovery make way for inflation, we're sitting closer and closer to the edge and could tip over into a global financial crisis. And I'm not the only one concerned. Satyajit Das from MarketWatch poignantly draws the conclusion that "where supply constraints are reached, excessive deficit-financed spending would result in inflation, higher rates, and a currency correction." So, all it takes is for the Federal Reserve to increase the interest rate. By then, the dominoes in Asia – not just in the U.S. or the West – inevitably will topple.
So, there's no surprise that those developing countries have the best position to lead the charge toward a new digital currency and offset the risk. Whether the solution is a national CBDC or the adoption of cryptocurrencies like bitcoin may be up to a regional decision, but what I'm certain about is that the digital economy is inevitable. It's just a matter of when.
This is a guest post by Flex Yang. Opinions expressed are entirely their own and do not necessarily reflect those of BTC, Inc. or Bitcoin Magazine.
Source link
The aggregate bitcoin futures open interest rise is slightly below all-time levels.
The below is from a recent edition of the Deep Dive, Bitcoin Magazine's premium markets newsletter. To be among the first to receive these insights and other on-chain bitcoin market analysis straight to your inbox, subscribe now.
Aggregate bitcoin futures open interest rise is slightly below all-time levels made at the local bitcoin market top in April. Is this cause for concern?
While futures open-interest and leveraged bets favoring the long side have certainly increased over the recent weeks with bitcoin's feverish rally past previous all-time highs, there are a few key distinctions between the market structure in April versus what we are seeing now.
Source: Glassnode
The biggest and maybe the most important difference between the derivatives market in April compared to today is the percentage of futures-open interest that is using BTC as collateral to enter a position. With bitcoin derivative markets, you can either use BTC or stablecoins as collateral.
If you are long (directionally betting on prices to increase) using bitcoin, then if the price decreases your position P&L (profit and loss) and your collateral decrease in value in tandem, this raises the liquidation price of your position. This can result in mass-market liquidation events, similar to what happened in May following the April highs.
Thus, it holds great significance that the percentage of open interest using BTC as collateral has declined significantly since April, from a high of 70.17% to 45.04%. This is a trend we have been covering in detail since July, when we broke down some of these dynamics in The Daily Dive #028 – Structural Changes To BTC Derivatives Market.
The views and opinions expressed herein are the views and opinions of the author and do not necessarily reflect those of Nasdaq, Inc.
A closely followed strategist is eyeing price charts from the 2017 Bitcoin (BTC) bull run to see where the world's leading crypto is heading next.
Justin Bennett tells his 82,800 Twitter followers that comparing BTC's previous peaks and valleys is "like having a cheat code." He foresees a new all-time high of $80,000 just around the corner, followed by a leap past $100,000.
"The 2017 fractal accounts for this week's pullback.
Each move this cycle has been a little less aggressive than in 2017.
It was a 13% pullback then. Probably an 8-10% pullback now, or $60k BTC.
Then $80k+ in early November, $65k retest in mid-November, and $100k+ in December."
The trader uses some video game jargon in a follow-up tweet.
"This is like having a cheat code
As long as it doesn't deviate."
Bennett next zooms in on the BTC candles chart as he highlights a pullback that mirrors a 2017 price drop.
"Here's that slight BTC pullback I was referring to yesterday.
Next area of support is $58,000 – $60,000.
Bitcoin needs to reclaim the $64,000 area to become constructive again."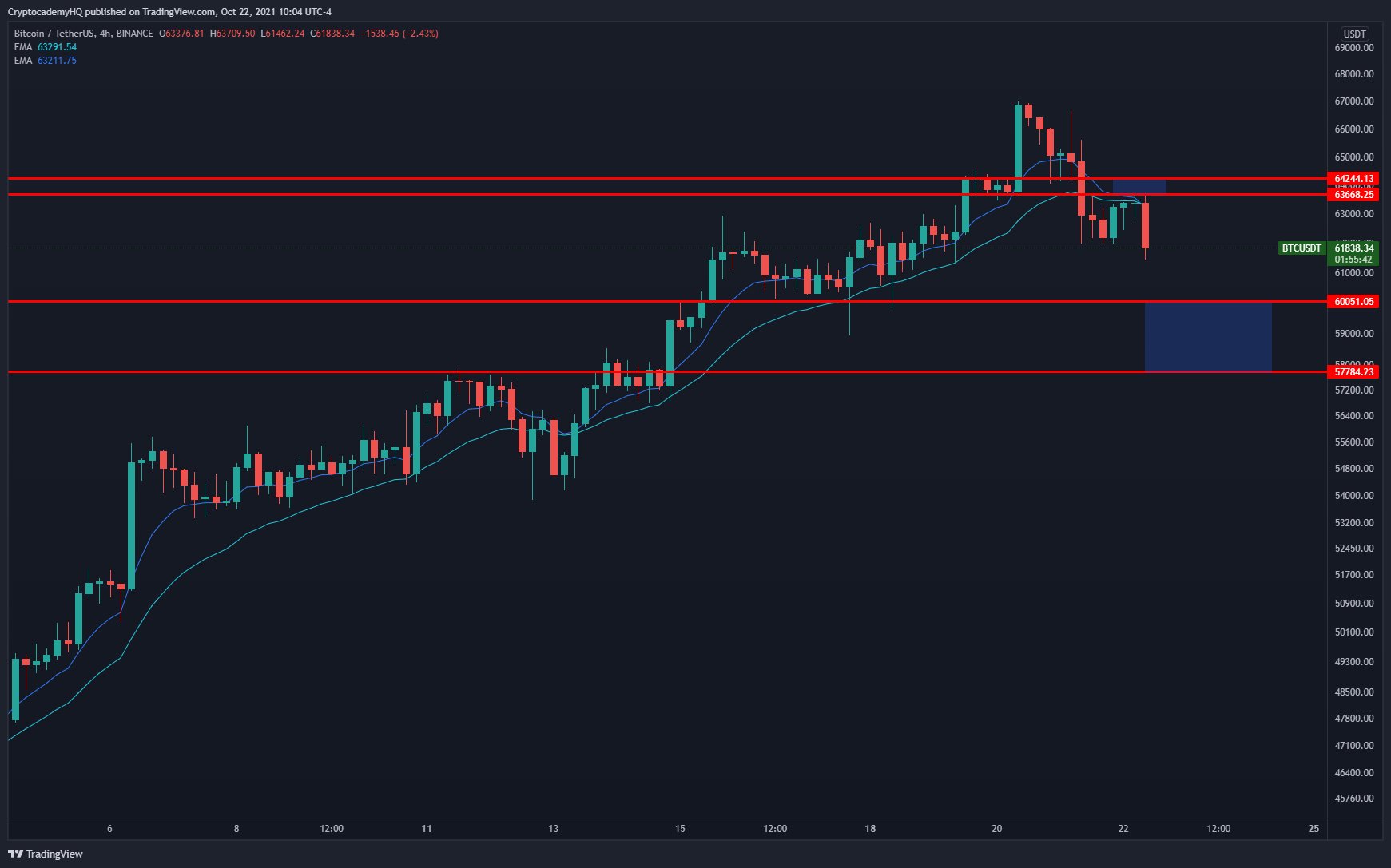 Finally, the analyst plots out a price road map where Bitcoin surges well past $100,000 into the $200,000+ range by early January of next year.
"I think something like this is much more likely."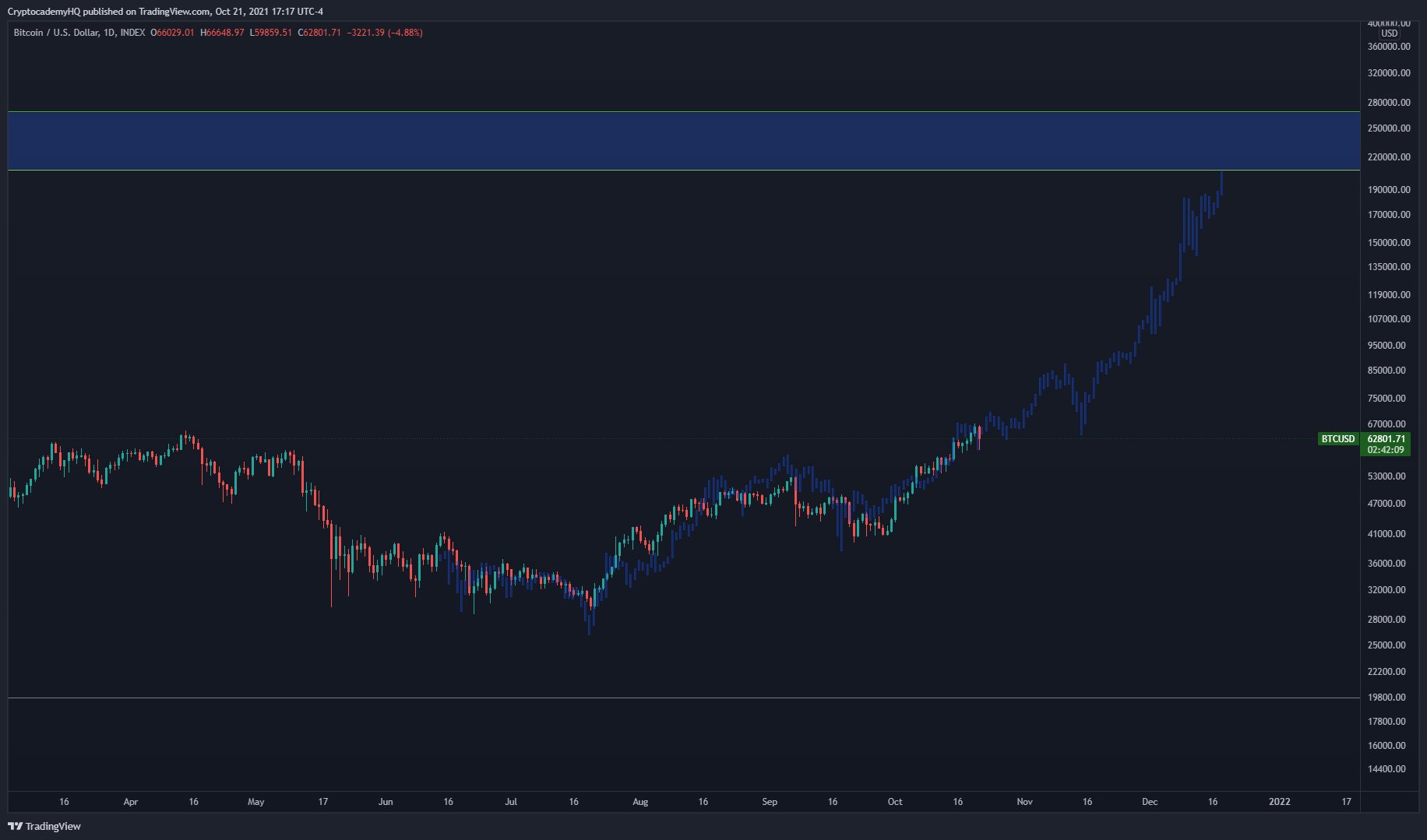 Don't Miss a Beat – Subscribe to get crypto email alerts delivered directly to your inbox

Follow us on Twitter, Facebook and Telegram

Surf The Daily Hodl Mix


Featured Image: Shutterstock/sezer66
Elliptic has linked the activity to ransomware group REvil, with which DarkSide has close ties, being hacked and forced offline by a U.S. government-led operation.
Oct 22, 2021 at 12:15 p.m. UTC
Updated Oct 22, 2021 at 1:35 p.m. UTC
Source link
The below is from a recent edition of the Deep Dive, Bitcoin Magazine's premium markets newsletter. To be among the first to receive these insights and other on-chain bitcoin market analysis straight to your inbox, subscribe now.
As most people who own bitcoin know, price drawdowns that are greater than 50% have been a regular occurrence after each all-time high. What we also know is that bitcoin price has proven to significantly recover from every major drawdown, which has made it the best performing asset over the last decade.
Currently we're rebounding from a 56% price drawdown post a 228% recovery. Historically what comes next is yet another massive recovery. This double top pattern playing out is eerily similar to 2013 where price went on to explode over 10 times in just 52 days, starting in early October. As we hover around $66,000, a six-figure bitcoin price is only a 51% price move away. This is a more conserative percentage move during a bitcoin bull cycle recovery based on previous cycles.
History may not repeat itself exactly but all of the on-chain metrics, recent price action and expectations of new entrant demand, during the most bullish holder behavior in bitcoin's history, have signaled a major price recovery underway.
At its core, bitcoin price is a function of new demand, through increased adoption, relative to the amount of limited supply available on the market. And right now, there's just not that much supply on the market until the current holders of bitcoin find a new, higher price worth selling at. This is the free market, volatile nature of bitcoin that so many criticize playing out. Except this time the volatility is price exploding to the upside just like it has in every previous cycle.
GiftChill, an online gift card store, is now offering a wide range of popular gift cards to customers that wish to pay with Bitcoin or other cryptocurrencies in an effort to help the spread of crypto as a working currency for online purchases.
collection of gift cards
collection of gift cards
LONDON, Oct. 21, 2021 (GLOBE NEWSWIRE) — Based in the UK, GiftChill is an online gift card store that is now allowing customers to make use of cryptocurrencies, including Bitcoin, to buy over 200 gift cards. These customers can benefit from secure payment, as well as weekly offers that can help them get deals on a wide range of popular cards.
The GiftChill website makes it easy to find the gift cards that customers want, including gift cards for Amazon, Fortnite V-bucks, Google Play, iTunes, Nintendo Store, PlayStation Network, Roblox, Steam, and the Xbox Store. Furthermore, many of these gift cards come with different values, as well as the ability to be used in different regions, be it global cards, UK-based cards, Europe-only cards or otherwise. Their store allows users to narrow down their search options to find those amongst the 200+ cards that best suit their needs.
Customers who want to buy via cryptocurrency are now welcome and encouraged to make GiftChill their primary place to buy gift cards. The site now accepts Bitcoin, Bitcoin Cash, Ethereum, and Litecoin. All of their transactions are handled through CoinBase, a payment platform that allows for the secure payment of cryptocurrency, one of the most popular platforms for buying, selling, and storing all the above-mentioned coins.
Purchasing gift cards via cryptocurrency allows shoppers to rely less on banking, but also enables low transaction fees, faster payment processing, and full user autonomy over their accounts. It's also a more secure way to pay online, especially when handled with well-known coin transfer platforms like Coinbase, as is used by GiftChill.
GiftChill also offers a range of discounts and deals to make sure that customers can always find a great price on the cards that they want. They have a limited time offer running on all gift cards at the moment, and shoppers can register to sign up for news on any of the weekly offers that might be coming in the future, as well.
To learn more about GiftChill E-Gift Cards, the selection that they have on their store, or how you can shop using Bitcoin and other cryptocurrencies, you can visit their website at https://www.giftchill.co.uk or email them on [email protected]
Related Images
Image 1: collection of gift cards
discounted cheap gift cards
This content was issued through the press release distribution service at Newswire.com.
Attachment
Source link